Concerns over food hygiene 'scores on the doors' plan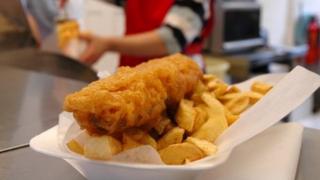 Business leaders say the Welsh government has not been vigorous enough in assessing the impact a new food hygiene law may have on food firms.
The Federation of Small Businesses is concerned "scores on the doors" ratings for restaurants and take-aways will be extended to producers and wholesalers.
Meanwhile, a consumer group is concerned food outlets could be given more time to appeal, delaying ratings.
Ministers say they will listen to views.
The new law is looking to build on a voluntary scheme, in which restaurants, takeaways and supermarkets in Wales display food hygiene ratings.
Businesses will be rated with a score between 0 and 5 - with 0 meaning urgent improvement is necessary and a 5 meaning hygiene standards are very good.
Ratings will have to be displayed in a prominent position or businesses will face a fine.
The FSB Wales says the Welsh government's assessment of the law's impact on food businesses has not been vigorous enough.
It is concerned over proposals to include food producers, wholesalers and transporters to comply with the legislation as well as premises selling food.
Iestyn Davies, head of external affairs for FSB Wales, said: "There are a number of elements of the Bill that we agree with, including details around the right of a business to appeal a rating decision and the suggested timescales to do so.
"However, we are extremely concerned that an adequate regulatory impact assessment - an absolute staple of any robust legislation - does not appear to have been carried out in respect of the recent inclusion of business to business trade in the Bill.
"Effectively, this means that the Welsh government has included an entirely new category of businesses into this law with no consideration of the possible impact this might have."
The FSB is due to give its views about the legislation, along with Consumer Focus Wales (CFW), to the assembly's Health and Social Care Committee on Thursday.
The CFW will raise the issue of the length of the appeal for food businesses, who will be given 21 days to appeal against ratings before they must display their "scores on the doors" or face a fine.
The current voluntary system gives businesses seven days.
CFW says this could delay the information being displayed by almost two months.
Liz Withers, head of policy, said: "We think the current timelines under the voluntary scheme of seven days were reasonable and proportionate.
"However, appreciating the concerns raised by authorities, perhaps extending this period to 10 days might be more appropriate.
"It is important that consumers are given information as quickly as possible without creating unnecessary bureaucratic obstacles."
The Welsh government wants the new statutory scheme to be in place by November 2013.
A spokesperson said ministers were pleased that views had been submitted.
A statement added: "The committee is taking written and oral evidence from a wide range of stakeholders and is expected to report on its scrutiny of the Bill in October this year.
"The Welsh government will consider the committee's report and recommendations in the autumn."