Tom Maynard death: Family agrees to setting up trust fund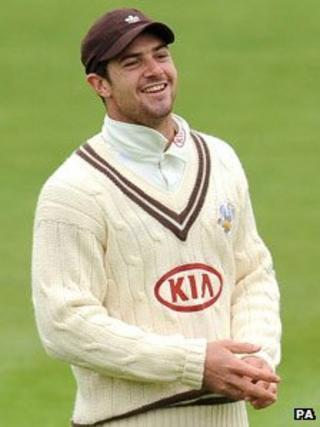 The family of Surrey cricketer Tom Maynard have given the go-ahead for setting up a trust fund in his memory.
The 23-year-old was hit by a London Underground train in Wimbledon on 18 June.
An inquest into his death has been opened and adjourned and more than 1,000 people attended his funeral at Llandaff Cathedral, Cardiff, last week.
The Tom Maynard Trust will initially help the development of aspiring disadvantaged cricketers.
It will also be open to other sports people who need support with different aspects of their career development including bursaries, training and education, financial support for overseas placements and assistance with kit and equipment.
The trust is supported by individual members of Surrey and Glamorgan - the two clubs Maynard played for - and the Professional Cricketers' Association (PCA).
Martyn Ryan, a friend of the Maynard family and one of the founding trustees, said: "This has been such an incredibly difficult time for the family but the suggestion of a trust in Tom's name will provide a real focus for them and help to keep Tom's name alive.
"At this stage we're looking at some objectives based around helping emerging disadvantaged cricketers but we recognise that these things evolve and we hope that as the concept grows we can consider other ways of providing help for young people.
'Delighted'
"We're pleased that it will involve personnel connected with both of Tom's clubs as well as the PCA, an organisation his father Matthew continues to be such a proud champion of."
Surrey chairman Richard Thompson said the club was "delighted" to support the trust.
He added: "In addition to his considerable talent, Tom was an incredibly popular young man and the establishment of a trust will ensure that his name will not be forgotten.
"It is fitting that the objectives should focus on helping aspiring young cricketers and I am sure that an enormous number of people will benefit in years to come."
Surrey have also announced its CB40 match against Glamorgan at the Oval on 21 August will be used to commemorate Maynard's life.
An inquest into Maynard's death has been opened and adjourned until 24 September.
The death, which is not being treated as suspicious, was announced a day after he played for his county in the t20 game against Kent.
Maynard had previously played for Glamorgan until his father left his role as the club's coach in 2010.
The Tom Maynard Trust said donations can be made by contacting Jon Rees, Carston Accountants, Tudor House, 16 Cathedral Road, Cardiff CF11 9LJ.