North Wales Police to trial neighbourhood justice panels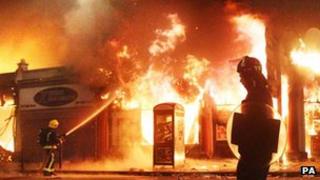 North Wales Police is among 15 forces trialling new measures to speed up courts dealing with offenders.
Neighbourhood justice panels will see local people decide how offenders should make amends for low level crime.
UK Police Minister Nick Herbert will publish a White Paper later which plans to introduce "swift and sure justice" following last year's England riots.
But Plaid Cymru MP Elfyn Llwyd said the plans harked back to "medieval times" and would undermine magistrates.
Mr Llwyd, a north Wales MP who is vice chair of the justice select committee and a criminal barrister, told BBC Radio Wales he was against the proposals.
"I'm afraid we are going to be in danger of going back to the medieval times of putting people in stocks on market squares," he said.
'Huge imbalance'
"What I'm worried about is justice and justice has to be seen to be done. Justice is normally carried out by lay magistrates or by professional judges which is fine.
"I think there's a consultative role for neighbourhood panels, but I don't think they should be definitive because there is a danger of overreaction because, in some areas, some kinds of crimes are prevalent and in others they're not."
Mr Llwyd also warned of a "huge imbalance" if these proposals were to go ahead.
He added: "I think they [the community] should be consulted but I don't like the idea of community panels because they are running parallel with the current system that we have.
"I haven't heard anybody say that lay magistrates are doing a bad job - in fact, quite the reverse. They are doing a very fine job.
"This may be, I think, another means of actually undermining them and ultimately we will end up with professional judges, district judges everywhere and far fewer magistrates."
The neighbourhood justice panels, aimed at helping people deal with anti-social behaviour and low-level offending in their community, have already been trialled in three areas and will be tested in a further 15, which include north Wales.
'Rapid and effective justice'
The Ministry of Justice says the panels will directly involve the victim and community in deciding action on the part of the perpetrator that is meaningful, visible and based in the community itself.
Magistrates will be given a stronger role in community justice, with single magistrates sitting outside courts, in buildings such as community centres, in order to "dispense rapid and effective justice in low-level, uncontested cases".
Mike Brogden, a former professor of criminal justice at Queen's University, Belfast, said he had concerns.
"My notion of a neighbourhood is often that scandalised neighbours who are very angry about a particular crime and will inevitably at the moment overreact to the event," he said.
"Clearly one has reservations about the overuse of lawyers. I still think that proper law is decent law.
"We do require trained people... in terms of the expertise required to give both parties - the accused and the victim - some kind of justice."
The White Paper will also call for more court video links and tougher community sentences in England and Wales will also be proposed along with some courts sitting on Saturdays and bank holidays.
Gareth Pritchard, assistant chief constable of North Wales Police, is backing the idea.
He said: "We've been using restorative justice in a number of cases very successfully for quite a long time so it is an interesting development where we can use volunteers, and the offender and the victim - in appropriate cases - can come together.
"Clearly we would be careful about which cases we would refer to these panels. If it is anything more serious, we wouldn't take it to a panel.
"We want to look at the issues behind causative crime and see how we can change behaviour. That is our ambition.
"We are trying to reduce crime and anti-social behaviour and reduce incidents that are of concern in the community.
"Magistrates are local people and nobody says anything about that process which is very successful. This is just another option."
Elliott Griffiths, a Swansea magistrate and a regional representative of the magistrates association, saw some benefit to the idea.
"If it is going to be that these neighbourhood justice panels deal with low level crime which wouldn't have come to the magistrates court in any case, then maybe there's good in that because at the moment a lot of incidents are diverted from the courts by use of fixed penalty notices," he said.