Wet weather hits RSPB Cymru's north Wales curlew project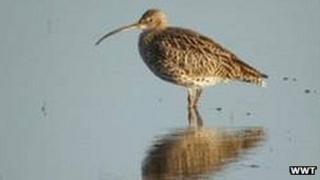 Unseasonal weather has hit a project trying to halt the decline of a wading bird in Wales.
The RSPB says a number of curlew chicks have died in the wet weather in an area of north Wales called Hiraethog, the bird's last Welsh stronghold.
Breeding curlews have fallen by up to 80% across Wales in recent decades.
Changes to the way land is used and managed, along with an increase in predators, are being blamed for the bird's decline.
The bird was once common throughout Wales, especially in south Powys, the Brecon Beacons, the Cambrian Mountains and north Wales.
The Hiraethog wader project has been trying to find out how the birds use the landscape and how they interact with livestock and farming, their potential predators and each other.
Dave Elliott, who is part of the project, said curlews preferred land with short vegetation so they could feed easily, and areas nearby with longer grass so they could nest.
Mr Elliott said two habitats specially created for breeding curlews had produced chicks this year, but the cold and wet weather had resulted in a number of them dying.
"The project is showing signs of promise and the two habitats led to a number of chicks hatching, but the wet weather has been terrible and a number have died," he said.
Mr Elliott estimates that there are between 60 and 100 curlew pairs are left in Hiraethog and about 1,100 in Wales.
An RSPB spokesman said: "The curlew appears to have had yet another difficult breeding season. Their numbers are currently in catastrophic decline in Wales as a breeding species."
Earlier this week, the unpredictable weather was being blamed for altering bird migration patterns.
Many arrived at The National Wetland Centre in Llanelli weeks earlier than expected, said experts.