Coping with tragedy: 100 years of Mines Rescue Service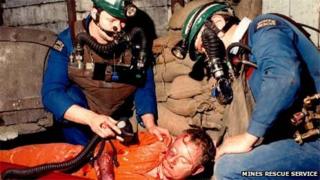 In an office of the Mines Rescue Service base in Rhondda there is a book that logs every incident the team has been called to in the last 100 years.
Signed by King George V and Queen Mary, who opened the station in Dinas in 1912, one of its first entries is about the Senghenydd mining disaster - Britain's worst mining tragedy.
It simply says: "14th October 1913, Senghenydd, explosion, 436 killed."
Another entry from October 1966 reads: "Call to disaster at Aberfan - tip slipped. 147 died."
The most recent entry is for the call out to Gleision Colliery in the Swansea Valley last September, when water flooded a mine, killing four miners: "Five men reported missing... four bodies recovered."
These emphasise how the Mines Rescue Service has been at the centre of coalfield tragedies over the last century.
The service was originally set up as a result of the 1911 Coal Mines Act, due to the number of fatalities taking place in collieries across the country.
By 1918, 43 stations were open. Now - because of the decline of the UK's coal industry - only six remain.
Dinas is the only rescue station in Wales - there used to be four - and the team is on call to help at emergencies across the UK.
The rescuers' role has evolved over the years, particularly following the privatisation of the mines.
The service's remit now includes health and safety training for fire, police forces and other organisations. It also inspects old mining shafts.
But the rescuers are still on call for emergencies throughout the year.
When the call came for Gleision near Pontardawe last year Leslie Jackson, a full-time member of the Mines Rescue Service for nine years, said they were initially not sure if it was real or a training exercise.
"As we got near to the mine we realised it was real as police were there," the 50-year-old former miner from Ferndale recalled.
"My heart was in my mouth then. But you're only interested in getting in there and getting people out.
"You have to keep hope. We were hoping there was an air pocket they had got into.
"But my stomach just dropped when we found the first man. We still had hope, even to the last man, but as time went on we started to realise it wasn't very good."
The men need to be strong physically. They often need to walk miles down into a pit carrying heavy breathing equipment and can be underground for hours without rest or sleep.
But a mental toughness is also necessary.
"The way rescuers are, you sort of become numb, it's a coping mechanism," said Simon Cook, 35, from Pontypridd, who was called to Gleision during his first week at work with the Mines Rescue Service.
"You detach yourself from it and if someone is feeling strange, we joke about it and bring them out of it. That's where the camaraderie here helps.
"After Gleision we were offered counselling but I don't think anyone took it.
"But you have to be a certain type of person to apply for the job.
"I think you are toughened and I try not to get emotionally involved, just get the incident over with.
"But I do think about it afterwards."
The mines rescue team is made up of former miners, and some are from a fire service background.
"You can't teach the safety awareness of being underground," said Mr Cook, who spent 13 years in the fire service and was based in Iraq during the war there.
"It's working with the noises. There's a lot of rumbling and grumbling going on and unless you've worked there you wouldn't know what's a characteristic noise or not."
There are also facilities at the rescue station that simulate mining conditions.
But for all their specialist training and passion for the job, Mines Rescue Service operations manager Mark Tibbott says the team are "the forgotten few".
"People don't know what we do and why we're still here. People think there's no mines left," he said.
"But actually we have two large mines close to us - Aberpergwm and Unity [in Neath Port Talbot].
"Aberpergwm have just taken on 48 new recruits who we are helping to train up.
"It's good news for the future of the industry as the average age of miners currently is 50."