BBC National Orchestra of Wales finishes first China tour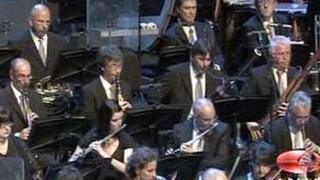 The BBC National Orchestra of Wales has concluded its first tour of China.
The 86 performers and principal conductor, Thierry Fischer, played to audiences in several cities during the visit, which began on 4 July.
It was part of the UK Now festival of British arts and creativity in China, organised by the British Council.
The 2,000 members of the audience at one concert in Beijing were joined by 6m people watching live on Chinese television.
Transporting an orchestra and its equipment around the world required detailed planning.
The 12-day tour included concerts in the cities of Tianjin, Beijing, Shanghai, Shenzhen and Guangzhou.
Forty-one freight boxes were used to transport the 277 individual items required by staff and musicians, including millions of pounds worth of instruments.
Orchestra manager Byron Jenkins said: "The value of the instruments is about £2.5m.
"They're fully insured of course, but the players get very nervous because they own their own instruments, and they get very nervous about seeing the instruments packed away into a case and shipped halfway across the world.
"There's a big sigh of relief when we arrive at the first venue and we unpack them and check that all the instruments are OK, because some of them are very fragile."
Among the music performed during the six concerts in China was Bernstein's Candide Overture, Ravel's Bolero, and concertos by Mozart.
The tour is one of the last projects to be led by Thierry Fischer, whose six-year period as principal conductor ends next month.
He said: "I have enjoyed my time immensely with the orchestra over the past six years, and these concerts in China will be one of the highlights."
Mr Fischer's final appearance with the orchestra will be with a performance of Berlioz's Requiem during the BBC Proms in August.