London 2012: Party for taekwondo Olympic hopeful Jade Jones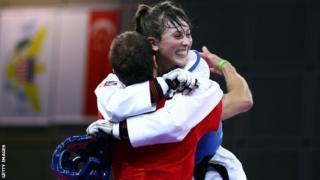 It was the kind of party normally reserved for triumphant Olympic athletes returning home.
Around 250 people gathered at Flint's Sports and Social Club to wish taekwondo star Jade Jones luck in London 2012.
Jones, 19, is a medal hopeful in the under 57kg (8st 9lbs) category.
She credits the support of her home town for getting her this far and said: "Obviously I'm going there for gold and I won't be happy with anything less.
"If I'm mentally on it and I fight like I want to fight, I'll be happy. Training has been going really well."
Jones arrived at the party at about 20:30 BST to cheers and applause.
She said: "It's completely overwhelming, I didn't expect anything like this. The support I've got from people here is unbelievable, they're really behind me.
"They all mean such a lot to me. I want to do everybody proud."
Although born in Bodelwyddan, Denbighshire, Jones grew up across the border in neighbouring Flintshire.
She started taekwondo aged eight when her grandfather Martin got her interested to keep her off the streets.
By the age of 15 she had dreams of competing at the Olympic Games, and in 2010 she won gold at the Singapore Youth Olympics - partly thanks to the people of Flint.
Local businesses and pubs raised the £1,600 she needed to go to the Youth Olympic qualifiers.
She said recently: "The people of Flint have always been supportive and have played a big part in my progression, so I was keen to thank them and explain that their generosity was worth it.
"The selflessness of the people of Flint epitomises the Olympics spirit so I was as much relieved as I was proud when news that I was in the Team GB taekwondo team became public knowledge."
She said her Olympic journey had "captivated Flint, it has made the town feel part of the London Olympics despite being hundreds of miles away".
Jones discovered she had been selected for Team GB in June, but had to keep it secret from her family.
She said her mother works at a butchers on the high street and people would always be asking her "how is Jade getting on, is she going to the Olympics?" while they were buying their sausages.
Now, there can hardly be a person in the town who has not heard of Jade Jones and her Olympic hopes.
Many of them were at the party on Friday, which also featured a DJ and disco and a local band.
First class
A big screen is also being planned in the town so as many people as possible can watch Jones compete in August.
Her grandfather Martin Foulkes, 57, took Jones to her first class.
"It's an unbelievable feeling. She made us so proud at Singapore, all the endless miles of travelling and expense of going abroad - it was worth every penny as soon as they put that medal around her neck," he said.
"I have always believed in her and I still do."
Mr Foulkes has high hopes for his granddaughter.
"She has the ability to do it but anything can happen because it's a full contact sport and she's going up against world class fighters," he said.
Her mother, Jayne Ferguson, 40, said: "Words cannot express how proud of her I am.
"For a year now everybody in the town has been asking how she is and how things are going."
Family friend Lynda Leigh, who organised the pre-Olympics party, said: "We're so proud as a town, the place has really pulled together to support Jade.
"All we want is what's best for her. There's not a lot for the kids to do in Flint. Membership in taekwondo at the local club has doubled thanks to Jade - she's a real inspiration."
She will leave for London on Thursday, 19 July.
With the town firmly behind her before she has even left, one can only imagine the reaction if Flint's Olympic hopeful returns victorious next month.