Cardiff and Swansea football fans clash at Newbury race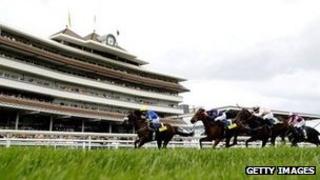 Two men have been arrested after Cardiff and Swansea football fans clashed at a race meeting in Berkshire.
Up to 60 fans fought running battles at Newbury racecourse for 15 minutes, leading to the closure of bars around the circuit and police being called.
A 26-year-old and a 33-year-old, both from Swansea, arrested on suspicion of affray, were bailed until 18 August.
Fans of the two clubs have a history of bitter rivalry but it was not clear what prompted the disturbances.
Police were called at around 16:00 BST on Saturday by the racecourse staff after violence broke out.
'Sporadic fighting'
The disturbance began on the ground floor of the grandstand and then spread to the racecourse itself, police said.
Det Sgt Warren Craik, of Thames Valley Police, said: "It's believed between 50 and 60 people were involved in this disorder, but it was quickly brought under control by police."
Newbury's managing director Stephen Higgins said: "There was sporadic fighting over about 15 minutes.
"We have absolutely no idea why it started."
No-one was seriously injured in the incident, police confirmed.
Racegoer Julie Davis told the Racing Post: "It was a disgrace and I won't be coming again.
"It took so long to get it sorted out.
"Every time you thought it had stopped it started again. I reckon there were at least 30 people involved. It was scary."
Another eyewitness Denise Mathias told the newspaper: "It just seemed to be a big fight between football supporters from Cardiff and Swansea. It was terrible. I saw a stocky man covered in blood having his head stamped on."
In an unrelated incident, one person was taken by private ambulance to hospital suffering a suspected heart attack.
Anyone with information about the fight, or who may have captured footage of it on a camera or mobile phone, was asked to contact Thames Valley Police.