New Welsh language pressure group Dyfodol i'r Iaith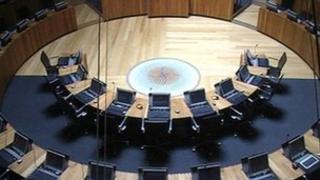 A new pressure group for the Welsh language is being launched.
Supporters of Dyfodol i'r Iaith (A future for the language) say they will lobby to ensure it is "at the heart of civic and community life in Wales".
They say they will use constitutional means to influence the public policy and legislation to "promote and nurture" the language.
The group said it was responding to the challenge of a Wales where the assembly has primary legislative powers.
This year marks the 50th anniversary of a radio lecture by playwright, poet and Plaid Cymru co-founder Saunders Lewis which led to the setting up of Cymdeithas yr Iaith Gymraeg (Welsh Language Society).
Saunders Lewis' lecture claimed that Welsh was on the brink of extinction.
In February the outgoing head of the Welsh Language Board claimed the language was dying in its heartlands.
"We need an organisation like Dyfodol to take advantage of the new opportunities available to legislate for the Welsh language," said Heini Gruffudd from Swansea, of the group's steering committee.
Membership is open to all, and professionals will be employed to support the group's work.
The group said it will focus on several areas of work including education, communities, economy, the media and language planning.
Dr Simon Brooks, a lecturer at Cardiff University, told BBC Radio Wales it was time that Wales had an "independent lobby group" for the language in the "post devolution" era.
He said Cymdeithas yr Iaith was a very successful group, but it was based on "street protests" and "direct action," whereas Dyfodol would employ purely constitutional means.