Census: Wales population up 5% to 3.06m, Cardiff up 12%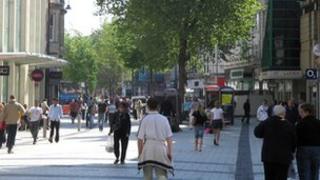 The population of Wales has risen 153,000 (5%) to more than 3.06m in the past 10 years, mostly due to migration from the rest of the UK and abroad.
The 2011 Census shows the growth was the largest in any 10-year period between censuses since 1921, although slower than in England, up 3.6m (7%).
Cardiff has seen the biggest growth in Wales to 346,000 people, up 12% (36,000) since 2001.
About 90% of Wales' increase is due to migration, say Census officials.
The Office for National Statistics (ONS) said that included people moving from elsewhere in the UK as well as from overseas.
'Valuable information'
"These statistics will provide valuable information for planners, policy-makers and the public for years to come," said ONS statistician Jil Matheson.
Of local authority areas in Wales, Cardiff was the most densely populated city with 2,500 people per sq km, the equivalent of about 25 people on a rugby pitch.
Most Welsh councils saw increases in population, but there was a small decrease (0.3%) in Blaenau Gwent.
Across all of England and Wales 17 local authorities saw a decline in population.
The Welsh local authority area with the largest proportion of people aged 65 and over was Conwy with 25%. It also had the smallest average household size with 2.2 people.
Cardiff has the smallest proportion of over-65s, at 13%.
Wales also has a higher proportion of 65-year-olds than nearly all the regions of England.
Figures show there were 11,000 more under-five-year-olds in 2011 than in 2001, an increase of 7%.
By comparison, the number of under-fives in England increased by 13%, approximately twice as quickly as in Wales.