London 2012: G4S problems 'don't affect Cardiff stadium'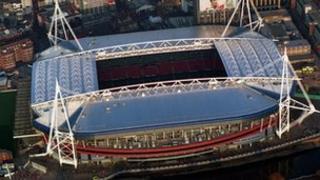 The manager of the Millennium Stadium says it will not be hit by problems affecting security contractor G4S.
Cardiff will stage the first Olympics action on Wednesday, 25 July, and G4S has failed to train enough staff for the whole Games.
But Gerry Toms says he agreed with organisers Locog at an early stage to use the stadium's own stewards.
Cardiff Central MP Jenny Willott said detailed contingency plans were already in place for around the city.
An extra 3,500 troops are needed for the London Games after G4S's problems.
Cardiff will host women's football two days before the opening ceremony in London.
"It doesn't affect us," said Mr Toms. "It's a relatively unique situation.
"When we first discussed the event arrangements with Locog, it was agreed that search of spectators would be carried out by the Millennium Stadium steward staff under the direction of Locog.
"There's always a unit of police officers at the stadium and there will be police officers present."
Mr Toms added: "The use of G4S is very limited - that's perimeter security [near the stadium]."
G4S recruits for the whole Games have described being screened and trained, then not hearing any more, while others have spoken of problems with helplines and websites.
The private security firm said its job was "unprecedented and very complex".
Mr Toms said the security operation would be "vastly different" to a standard stadium sporting event, with a "rigorous" search procedure.
Mr Toms agreed that the entry procedure would be like getting on a long-haul flight.
He told BBC Radio Wales: "And therefore searching will take a little bit longer than it would normally take for an event at the stadium.
'No-bags policy'
"Therefore the advice we would give spectators is please turn up early and there is a no-bags policy, so don't bring bags along because that only makes the situation worse.
"If people come early then we are confident we'll get everyone in on time."
Ms Willott, a Liberal Democrat MP, said officials in Cardiff were aware "for a while" that G4S may not be able to get everyone trained.
"It seems they have a very detailed contingency plan. I think it's a combination of police and the Army."
South Wales Police, which is one of eight forces who have deployed officers to help plug the gap, said contingency plans for Cardiff had been built into their resources and delivering a safe and secure Games was the priority.
A spokesperson said: "We continue to work closely with Locog and G4S as the Games security regime is implemented ahead of the Games.
"South Wales Police officers are supporting Locog's security operation by providing officers to enhance the security arrangements in place, operating to the tight time scales needed to deliver the defensive search regime at athlete facilities in our area.
"As part of our planning for the Games, we have been sure to build contingency and resilience into our resourcing and we have the capacity to meet this task, and we will not compromise on keeping the streets and our local communities safe."
Last week, G4S said it faced a £35m-£50m loss on the £284m contract after admitting it failed to recruit enough security guards for the Olympics.
On Monday, Greater Manchester Police had to supply front-line officers after only 17 of an expected 56 G4S staff turned up for work at an Olympic team hotel in Salford.
G4S said police officers from the nine forces - including South Wales - drafted in to close a short-term gap in Olympics security should be able to be withdrawn "over the coming days".