Neath Port Talbot Hospital 'urgent' ward changes revealed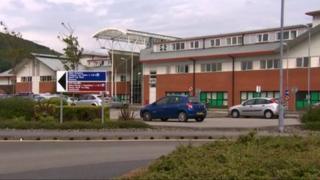 NHS managers have revealed details of "urgent" changes to a hospital's acute medical services which they say are forced by a shortage of doctors.
The beds on one of three wards at Neath Port Talbot Hospital, as well as its Medical Assessment Unit (MAU), will transfer to neighbouring hospitals.
Abertawe Bro Morgannwg University Health Board says it has no plans to close the hospital.
Local politicians are concerned about the changes due to start in September.
The health board estimates 26 patients per day who would have expected to be seen at Neath will be seen at other hospitals.
In a statement, it said the medical wards D and E, totalling 64 beds, will remain for "patients returning to finish their care".
The medical patient beds on Ward C will be shared between Swansea's Singleton Hospital and the Princess of Wales Hospital in Bridgend, it said.
The MAU beds will go to Morriston Hospital.
Managers expect about 80% of the patients affected to go to the Swansea hospitals and 20% to Bridgend.
The health board has said the "urgent removal" of the beds is necessary because the hospital's acute services would become "unsafe" by September, following its difficulties in recruiting enough doctors.
It said the changes had been advised by "very senior doctors".
As part of the changes, all the hospital's acute medical care consultants will move to Morriston Hospital but its care-of-the-elderly consultants will stay.
The decision to remove acute medical beds at the hospital sparked a critical response from politicians.
Earlier this year, Neath MP Peter Hain said: "I just do not accept the reasoning.
"I just can't believe that the health board cannot find the doctors in a time of global recession."
'Expanding services'
South West Wales Plaid Cymru AM Bethan Jenkins said: "There is deep concern locally that this is symptomatic of an intention to downgrade the hospital."
The health board has insisted the decisions are not part of plans to downgrade Neath Port Talbot Hospital or close it.
Managers have said the hospital is expanding its services, with a new centre for IVF treatment, a new urology unit, as well as becoming a centre of excellence for orthopaedic surgery.
Health board director of planning Paul Stauber said: "Neath Port Talbot Hospital will continue to play a very valuable role. It has excellent staff and facilities and we are committed to its future.
"As our plans develop further we will continue to share them as widely as possible."