Dog attacks on post staff unacceptably high - Royal Mail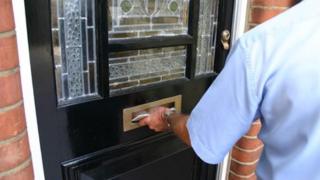 Dog attacks on postal workers in Wales are "unacceptably high," says the Royal Mail, with more than 200 in a year.
A total of 217 postmen and women were attacked while doing their job in the 12 months to April 2012, a rise of 3%.
The mid Wales and SY postcode area, from Aberystwyth to Shrewsbury, saw a 50% rise, with 30 attacked by a dog.
The Royal Mail and the Communication Workers Union (CWU) have warned the risks rise during school holidays when more dogs are loose in gardens.
With the school holidays about to begin, both organisations have appealed for dog owners to keep their pet under control.
Figures released jointly by the Royal Mail and CWU show the Cardiff postcode area had the highest number of attacks, with more than 40, but this was down 18% on the previous 12 months.
More than 30 postmen and women were attacked across the SA postcode area, but this was down 19% on the previous year.
The SY postcode area saw by far the largest increase in attacks, rising 50% to 31.
Richard Thomas, 37, a postman for 19 years, said he was terrified by his most recent attack.
He was attacked by a rottweiler as he delivered a parcel to a house in the Pontypridd area.
He said: "I knocked the door. A little girl opened the door and the dog pushed her out of the way and came straight at me.
"I put the parcel in front of me and he took a chunk out of the parcel. It locked its jaws around it.
"I was backing down the path. He came at me again and jumped at me. With the weight and power of him, he pushed me over and he came down on top of me.
"All I could think of was grabbing his neck and trying to stop him from biting me. He would have had my head. I was lucky he had a collar on because I was able to keep his head up.
'Frightening situation'
"I could feel its claws in my shoulder. The owner must have realised the front door was open. He came out and shouted at the dog.
"I was bleeding all over my hands. Then the dog came at me again. He shouted at it again. He called the dog off and then went back in and shut the door."
Mr Thomas said: "It makes me a bit nervous now when I go in to a garden and can hear a dog. You are a bit edgy when you hear that noise."
The Royal Mail has spent £100,000 across the UK on awareness campaigns as well as giving out 90,000 "posting pegs" that protect the fingers when pushing letters through a letterbox.