Remploy staff in Wales join strike over factory closures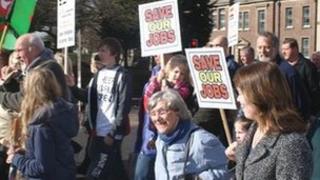 Workers at Remploy factories around Wales will join the first of two 24-hour strikes across the UK over plans to shut factories.
In Wales at least 183 jobs are expected to go at Aberdare, Abertillery, Merthyr Tydfil, Swansea and Wrexham.
A second day of industrial action is planned for next week.
The UK government said the £320m budget for disabled employment services could be better spent, and it plans to close or sell 54 factories in total.
The GMB and Unite unions said its members are planning a second strike for Thursday 26 July.
Phil Davies, the GMB national secretary, said: "Disabled people in Remploy have not taken lightly the decision to withdraw their labour."
He said they did not have large amounts of savings, so to sacrifice a day's pay showed the passion with which they have been trying to save their jobs.
'Massive support'
He said the closures will put thousands of disabled people and their families into "poverty and their health is bound to suffer".
Unite officer Kevin Hepworth added: "We have been taken aback by the massive support, not just from the trade union movement, but from the general public.
"We have received hundreds of emails and phone calls condemning the government for dealing with the sacking of disabled workers in such a brutal way."
On Tuesday, the Welsh government announced a £2.4m scheme for employers who give jobs to former Remploy workers for at least four years.
Education Minister Leighton Andrews said the Employer Support Grant will contribute towards wages and "all other reasonable costs" which arise from employing a disabled worker.
The UK government proposals follow an independent review conducted by Liz Sayce, chief executive of Disability Rights UK, into the way the government spends its disability employment budget.
Her report recommended that UK government funding should focus on support for individuals, rather than subsidising factory businesses.
The cash should be diverted into the Access to Work fund, which provides technology and other help to firms for the disabled, whose average spend per person is £2,900, she said.
The Department for Work and Pensions said about a fifth of that budget was currently spent on Remploy factories, but added that almost all of the factories were loss-making and last year lost £68.3m.