Cross-party assembly group calls for independent media forum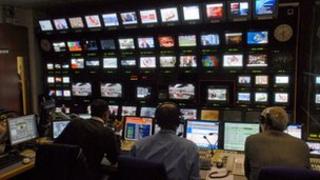 An independent forum is needed to examine the creative industries in Wales, such as TV and newspapers, according to a cross-party report.
The chair of an assembly group led a debate on the Welsh media's future.
Ken Skates AM said the group heard evidence that the Welsh government was "not involved" with creative industries.
The Welsh government said its role would "evolve and grow" in terms of its relationship with the media.
The cross-party task and finish group recommended an advisory forum in relation to media policy.
This recommendation was rejected by the Welsh government but it has accepted the call to review the level of political coverage provided by BBC Wales, particularly in the light of budget cuts in relevant departments.
It has also accepted the the recommendation to keep under review arrangements for funding S4C to ensure that the financial settlement is appropriate.
Mike Hedges AM expressed the need to continue with sufficient funding for the channel in order for quality programmes to be broadcast, such as the children's programme Cyw, and coverage of Welsh Premier League Football.
In his response to the report, Heritage Minister Huw Lewis AM stressed that the role of the assembly and the Welsh government should "evolve and grow in terms of its relationship with the media".
'Strong independent voice'
However the minister raised concerns with regards to the newspaper industry.
He said: "Although we [Welsh government] have no direct responsibility for the newspaper industry in Wales, we are extremely concerned with the job losses."
Mr Lewis stressed that the media industry as a whole "is facing an uncertain future" however praised the new partnership with S4C and the BBC that "offered benefits to the people of Wales".
The minister also paid tribute to ITV Wales and emphasised the importance of a "strong independent voice" as a counterbalance against BBC Wales.