Cardiff City shirt colour change rethink plea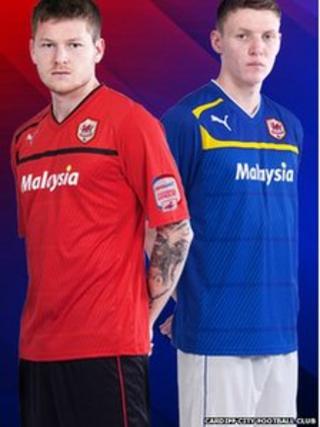 Cardiff City supporters have written an open letter to the club's Malaysian investor urging him to reverse the decision to change the kit colour from blue to red.
The group claims the club has become a "laughing stock" since plans were revealed.
Around 400 supporters of the Keep Cardiff Blue Campaign have backed the letter to Vincent Tan.
The change is part of a "major" investment at the club.
The letter, which has been translated into the Malaysian language, said: "We want you to know that the abandonment of Cardiff City's traditional, historical identity feels like an insult to many loyal supporters of the club.
"We feel sure that no disrespect was intended but the fact remains that news of the total rebranding of a community-based football club has been greeted with disdain, not just in south Wales or the UK but around the world."
It said the shirt change for marketing purposes was "unacceptable" to many Cardiff City fans.
"To many, Cardiff City has become a laughing stock and the name is now synonymous with all of modern football's ills," the letter added.
Until now, City has played in a blue home strip with a bluebird crest.
But Cardiff City FC confirmed the shirt change in June following discussions between club directors and Malaysian investors Mr Tan and Dato Chan Tien Ghee, known as TG.
Chief executive Alan Whiteley said it was designed to help the club - known as the Bluebirds - expand their appeal.
The new investment package will also allow the club to resolve its longstanding debt with the Langston company, it revealed.
It followed "a comprehensive review" of supporter feedback, the club said.
When the rebranding was leaked in May it led to an impassioned debate.
Some supporters opposed the changes, but others argued that the club should accept change to help secure major funding.