Welsh government could legislate to protect dairy farmers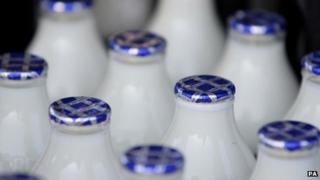 Welsh government officials have already started work on draft legislation for fairer dairy contracts - if a voluntary code of practice fails.
Talks will be held at the Royal Welsh Show on Monday between UK government ministers and dairy farmers, who have been protesting over milk price cuts.
Four leading dairy processors plan to reduce the price they pay for milk by 2p a litre from 1 August.
Farmers are worried the reduction will force many of them out of business.
Wales' deputy Agriculture Minister Alun Davies was holding talks with UK government farming minister Jim Paice on Sunday night, along with ministerial counterparts from the Scottish government and Northern Ireland Assembly.
Speaking before his meeting, Mr Davies said he would prefer a UK-wide solution to the dairy issue, but if a proposed voluntary code of practice was deemed insufficient Wales could go it alone and legislate.
He added: "If the UK government is not prepared to act we have to look in Wales to protect dairy farmers.
"We have powers under CAP (Common Agricultural Policy) legislation to protect our dairy industry."
Mr Davies talked of establishing a framework where contracts between farmers, processors and retailers would be "more binding and enforceable".
He added that legislation could be drafted by the autumn.
Meanwhile, UK Environment Secretary Caroline Spelman, Mr Paice and Welsh Secretary Cheryl Gillan will hold talks with farmers at the Royal Welsh Show in Powys on Monday.
The latest developments come after protests were held by hundreds of farmers - including some from Wales - at processing plants in England last Thursday and Friday.
On Saturday, dairy farmers were among campaigners at a supermarket in Cardiff urging shoppers to sign a letter to support them over milk prices.
'Great industry'
The group, including members of the National Farmers' Union (NFU), also handed out leaflets at Morrisons in Cardiff Bay.
The NFU's deputy UK president Meurig Raymond, who farms in Pembrokeshire, said the union would do all it could to "protect this great industry".
On Saturday, Morrisons said it was increasing the premium to farmers on milk from 1p per litre (ppl) to 3ppl, as well as introducing support payments for farmers affected by the recent bad weather equivalent to 3ppl.
The Co-operative announced last Friday it would increase the premium it paid on milk to farmers within its group to 2.57 ppl with immediate effect and to 4.27ppl from 1 August.
The BBC's chief political correspondent Norman Smith said ministers hoped more retailers would follow the Co-op and Morrisons' example and a code of conduct on pricing could be agreed.
Smith said: "Although minsters are adamant they will not legislate or fix milk prices, they are determined in the words of one source 'to bang heads together'.
"The hope is that more supermarkets will follow the example of the Co-op and Morrisons, thereby easing the immediate pressure on farmers and averting the threat of more blockades."