London 2012: Katherine Jenkins in Team GB support call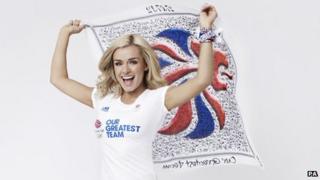 Singer Katherine Jenkins says she is delighted to add her voice to the drive to back British competitors in the Olympics.
The Welsh mezzo-soprano was talking about her role as a Team GB ambassador for the Games, which officially begin on Friday.
Previously she has sung at sporting events ranging from Welsh rugby internationals to the Epsom races.
But she said she did not mind missing out on the London opening ceremony.
"It's going to be more of a pop/rock orientated ceremony and obviously that's not my genre at all," she said.
She added: "I feel very lucky in my career so far I've been able to sing at so many of the big sporting events.
"I've very proud to be involved as an ambassador and I'll be watching and enjoying it (the ceremony) like everybody else."
The singer, who recently appeared in the US TV series Dancing With The Stars, told BBC Radio Wales she was pleased to be back home in time to follow the Olympics.
"I really love the gymnastics - I'm lucky enough to have tickets for the swimming and the athletics," she said.
"Just being part of London at this time, just being able to be in amongst the atmosphere here and elsewhere around the UK - I just think it's going to be a very special thing and just wonderful to be part of."
She added: "I have been out of the country an awful lot this year - that's been one of the funny things about this whole Olympic thing, to see it from the outside looking in.
"I've been in different countries where they've been talking about the build-up to the Olympics and now to be back here and to be part of it is just fantastic, and so nice to come home to something like this on this scale."