Drivers' whipround for Wales Air Ambulance on M4, Margam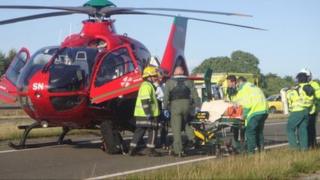 Wales Air Ambulance paramedics who landed on the M4 motorway to treat a casualty were given a £50 donation after a whipround by motorists.
The crew responded after a young man was injured in a traffic collision near Margam, near Port Talbot, on 20 July.
As the helicopter prepared for take-off, an unknown man presented the crew with £50 raised from waiting motorists.
Paramedic Chris Connor said public support was "phenomenal" and thanked the mystery man for the kind gesture.
His details were not taken because the crew were in a rush to fly the patient to University Hospital Wales, Cardiff, after starting treatment at the scene.
The charity relies on donations to run the service.
Mr Connor added: "This gesture of public support is phenomenal.
"We were only on scene for a short amount of time - probably under 10 minutes and in that time the motorists on the M4 managed to group together to raise £50 for Wales Air Ambulance.
"I'd like to thank the man who collected the donations and everyone who donated.
"It's thanks to public support and donations that we are able to provide a lifesaving air ambulance service to the people of Wales."