London 2012: Tanni Grey-Thompson prefers Lords to sport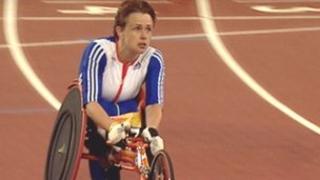 She's won more gold medals than any other British athlete but Tanni Grey-Thompson says she prefers life in the House of Lords to the world of sport.
Baroness Grey-Thompson says winning a vote in the Lords can be more satisfying than winning a race.
And she should know - she set 30 world records, won 16 medals at five Paralympics and defeated the government over its legal aid Bill.
Despite studying politics at Loughborough University, and always being interested in sports politics, she didn't plan a political career.
She tells the BBC Parliament programme First Past The Post : "I made a comment to the head of my department that politics was for losers - so that's come back to bite me slightly."
Wrong call
Her athletic career prepared her for the winning and losing involved in parliamentary life. The Athens Games in 2004 were the best of times and the worst of times, involving victory over 100m but defeat over 800m.
"I hadn't been beaten for 14 years over 800m - so not a very happy place to be," she said.
The Paralympian said she failed to heed the advice of her husband and coach, Iain Thompson.
"We had a 'discussion' on the finish line about the race, I hate to admit he was right, I did make a wrong decision, it took me a little while to admit that to him."
As you've guessed, the Olympic motto about it being the taking part and not the winning that counts doesn't really work in the Grey-Thompson household.
"Taking part was good when I was a child - you can't win the race unless you're there, taking part but for me winning was always the most important thing. I wanted gold and nothing else."
Two years ago, she was appointed an independent peer in the House of Lords.
"It's an amazing place to be and so much of what I learned from sport carries through to the life that I live now.
"In sport you train hard, here you have to prepare a lot you spend a lot of time researching, writing speeches, you get into the chamber, you find you're 56th on the speakers' list - three days you've spent writing a speech, you just cross it all out."
Nerves
She feels well prepared for her Lords role.
"People think that sport and politics is a million miles apart, and actually I think I've had it luckier than an awful a lot of people because I've had some of the best training in the world to do the stuff I do now.
"It's not taking things for granted I think that's probably the biggest thing I've learned from sport, that you have to work really hard and that you win some and you lose some as well."
Before every race as an athlete, Baroness Grey-Thompson threw up with nerves and she confesses her maiden speech in the Lords was terrifying. But if she had to choose between sporting glory and parliamentary life?
"If it's possible I love being in the Lords more than I loved being an athlete. I never thought I would ever find something that would replace it.
"For the whole of my career I thought there was nothing that would match up to that feeling of being an athlete.
'Slogging your guts out'
"But it's a good feeling when you know you've had a positive influence on something, you've won an argument and you've encouraged people to think again - and you've made a change to a line of legislation that might affect 10 people's lives or might affect millions of people's lives. That's a pretty good feeling."
"Life in the Lords is the closest I think I will ever get to competing because the reality as an athlete is that you get to compete in some very glamorous places.
"In the Lords you get to be in some very dynamic debates, with some big pieces of legislation that might affect lots and lots of people.
"The reality as an athlete is that you spend 12 to 15 sessions a week slogging your guts out on the road or in the gym on your own, which is really dull and boring, and mostly covered in snot as an athlete."
"Luckily," she adds with a chuckle, "that's not the same in the Lords."
She is unashamedly excited about the Paralympics coming to London and points out that more than a million tickets have been sold for an event that began with just 16 athletes in 1948.
Time for a comeback at the age of 43?
"It's way too late," she says. "I've eaten way too many cakes in the tearoom."
First Past The Post is on BBC Parliament on Wednesday 25 July at 21:00 BST