Maentwrog Hydroelectric Power Station in rainfall boost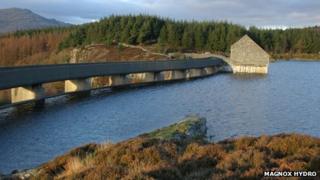 While it provided misery for much of Wales the heavy rainfall of the early summer has been reason for cheer in one corner of Snowdonia.
The Met Office has said this April and June was the wettest second quarter in the UK since records began in 1910.
And during the rain Maentwrog Hydroelectric Power Station in Gwynedd worked overtime using the extra water to generate extra electricity.
Station engineer Andy McAteer said it was "great news" for power supplies.
The 30 megawatt (MW) station on the banks of the Dwyryd Estuary has been operating for 84 years and is run by Magnox.
It generates electricity using water, which falls as rain in the surrounding area and is collected in a series of rivers, 'leats' and streams that feed into Trawsfynydd lake.
The water is carried by a pipeline to drive two turbines, which generate enough electricity to power around 12,000 local homes each year.
In the summer months Maentwrog's electrical output usually falls, but this year's weather has seen electrical output increase by nearly 150% to more than 3,000MW hours.
In June, the Maentwrog catchment normally sees 107mm (4.2 inches) of rainfall; however, last month 307mm (12 inches) of rain fell on the catchment area, with one specific mountain range within it recording 457mm (17.9 inches).
"This year has seen an incredible amount of rain," said Mr McAteer.
"We've had to run the plant for longer each day to make the most of all the water which is collected from the local area - which is great news for all, as it's such a sustainable form of energy supply."