Aurora shooting: Stephanie Davies and Allie Young 'played dead' to survive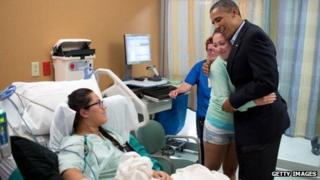 The Welsh father of a woman who saved her friend's life during a shooting incident at a Colorado cinema has told how the pair "played dead" to survive.
Stephanie Davies, 21, stemmed the bleeding after her friend, Allie Young, who had been shot in the neck, dialled 911 and then carried her from the cinema to an ambulance outside.
Twelve people died in the shooting on Friday and 58 others were injured.
President Barack Obama has met and praised the actions of the two women.
The incident saw a gunman opening fire during the screening of Batman at the cinema in Aurora, Colorado.
Suspect James Holmes, 24, has appeared in court accused of carrying out the attack.
Malcolm Davies, originally from Ceredigion, was "in awe" of daughter Stephanie's actions during the attack.
Mr Davies, who moved to the US in 1989 from Cilcennin, after meeting Miss Davies' mother, Erin, recalled the horrific attack to BBC Wales news website.
"She saw some things and heard things that no one should have to experience," he said.
"It's incredible. I'm lost for words. How she was able to have the presence of mind - doing all these things while a gunman was in the rampage, to help save her friend and dial 911 emergency services on the phone at the same time."
President Obama met Stephanie and her friend Allie at her hospital bedside on Sunday after the attack.
The US President was pictured hugging Stephanie and said: "Because of Stephanie's timely actions, I just had a conversation with Allie downstairs, and she is going to be fine.
"I don't know how many people at any age would have the presence of mind that Stephanie did or the courage that Allie showed."
'Cold and numb'
Mr Davies said he heard about the attack while at work in a Washington telecommunications centre.
"I thought what are the chances of my daughter being at that cinema at that time?" he said.
"As the morning progressed I called Stephanie's mom in Denver, just to make sure, and that's when I learnt of that had happened.
"I almost collapsed at that point. I came close to losing my daughter. I went cold and numb and it was a feeling of total disbelief.
"She went to the movies with her friend, Allie, just expecting a pleasant evening. About 15 to 20 minutes into the movie a gas canister came flying from close by. Her friend got up as if she was trying to yell to warn people and then she was shot."
Miss Young was shot in the neck.
'Footsteps'
"She ended up in the aisle and when Stephanie went to her aid she tried to get her to come back down [from the aisle into the seating area] but she collapsed in the aisle and Stephanie tried to pull her back in," she said.
"She applied pressure to the area where Allie was bleeding and while doing that she dialled 911 at the same time. All the while a gunman was still on the rampage and shooting.
"The movie had been stopped by this point and the lights had come on.
"The suspect came walking back down the aisle. When Stephanie heard his footsteps come back down the aisle she and Allie played dead and he walked right past. And I thank God for that."
He explained how armed police went into the cinema after the shooting.
Pride
"After the suspect went out of the exit and the SWAT team came in and Stephanie was yelling for help but they were just trying to clear the building," said Mr Davies.
"So Stephanie and a stranger carried Allie out of the cinema to an ambulance.
"Allie was having trouble breathing because she had punctured her lung, too, and I don't know if she was conscious at this point.
"Stephanie called Allie's parents and told them what had happened and Allie was going to the hospital.
"I am proud of Stephanie beyond belief. How she had the mindset to stay with her friend and while her friend told her to get out of the building, she would not leave.
"She had to stay with her friend and dialled for help while he was still going around shooting.
"I'm in awe of what she did.
"After coming so close to losing our child, to see her and be able to give her a big hug - it was totally amazing and I wanted it to last a lifetime."
Miss Young is in a stable condition and recovering.