Charlotte Church accepts libel damages over 'proposal'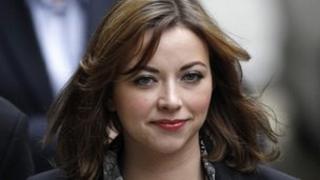 Singer Charlotte Church has accepted substantial undisclosed libel damages over a story which appeared in a Sunday tabloid.
The People claimed Church, 25, proposed to boyfriend Jonathan Powell during a drunken pub karaoke night in a Cardiff pub.
Church and Powell had actually been giving a live concert at the Acapella Studio, Pentrych, five miles away.
She later attacked an "out of control tabloid industry" following the report.
At the time the singer and TV presenter called the story a "complete fabrication".
"I have not proposed to my boyfriend, drunkenly or otherwise," she said in a statement after the story was published.
She called the article "embarrassing" for herself, family and friends.
The report, which was repeated in other media outlets, said Church had sung a karaoke song in the Robin Hood pub in Cardiff, before proposing to her partner, Powell, while drunk.
She said at the time: "I have not proposed to my boyfriend, drunkenly or otherwise.
"It is embarrassing for me (and him) for our families and friends to read that I have.
"I was not in the pub they mention on the night they allege this happened.
"I haven't been there for five months. At the time that I was apparently drunkenly proposing I was in fact performing in a completely different town with a large public audience."
She added there was not "one shred of truth" in the story.
"It is still alarming to me that lies of this scale can be printed. This is not journalism.
"It's a perfect example of why this out of control tabloid industry needs regulation immediately."
Church recently settled another damages claim against News Group Newspapers after her phone was hacked when she was 16-years-old.