Diver rescued from disused Dorothea Quarry in Snowdonia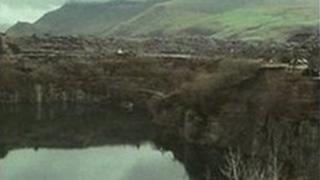 A diver has been airlifted to a decompression chamber after surfacing from a 300ft (91m) deep pool at a disused quarry in Snowdonia.
The 24-year-old man was at the the flooded Dorothea Quarry in the Nantlle Valley, a popular diving site.
He was taken by an RAF Sea King helicopter to a private Wirral hospital which has a decompression chamber.
It is understood the diver is suffering from decompression sickness, also known as the bends.