Wrexham country park pollution leak plan considered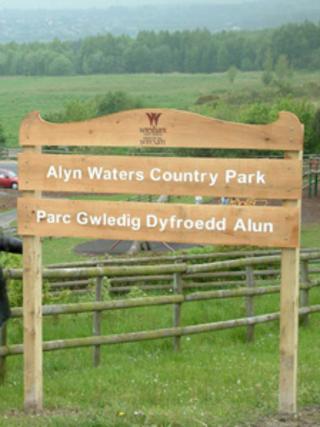 Plans to plug a leak in a former landfill site that is contaminating part of a country park are to go before councillors later.
Wrexham council is proposing six months of work to stop pollution leaking from the former Llay landfill.
Contaminants have been leaking into 20 acres of open space that forms part of the Alyn Waters Country Park.
If approved, the open space will be closed while the work, needing up to 30 lorry movements daily, is carried out.
Part of the land, at the southernmost point of the country park, is used for animal grazing and is managed by a horse sanctuary.
Habitat surveys found protected species that may use the site include badger, bats, reptiles and nesting birds.
The site is a former sand and gravel quarry which was worked during the early 1950s. From 1988 and 1994, it was was used as tip for domestic, commercial and non-toxic refuse.
A report before planners on Monday says that the leakage is likely to be caused by failings in the clay cap around the landfill.
The proposal is to make extensive improvements to the capping of the closed Llay landfill, with associated pipelines and installation of monitoring equipment.
'Noise, dust, vibration'
The report said there were a "small number" of homes nearby, while two of them abut the site.
One resident wrote to the council with concerns about prolonged noise, dust, vibration from the proposed works.
Alyn Waters is the largest country park in the Wrexham area. The majority of the park and its visitor centre is expected to remain open while the work is carried out.