Royal Glamorgan Hospital doctor shortage cancels operations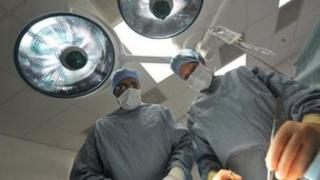 A shortage of trainee doctors has led to the cancellation of operations at the Royal Glamorgan Hospital in Llantrisant, BBC Wales can reveal.
Cwm Taf Health Board confirmed a shortage of junior doctors in orthopaedics led to cancellations.
Medical director Dr Kamal Assad said staffing was a problem across the NHS.
It follows "urgent" changes at Neath Port Talbot Hospital due to shortages. The British Medical Association Wales said safety risks were "unacceptable".
A BBC Wales viewer, who asked to remain anonymous, got in touch to say his scheduled knee replacement operation in early September had been cancelled due to the shortage.
Apologies
Dr Assad said: "We currently have a shortage of junior doctors in orthopaedics and, as a temporary measure, we have had to cancel a number of operations scheduled to take place at the Royal Glamorgan Hospital, in Llantrisant, over the summer months."
He said that the health board was currently advertising for trainee doctors.
"It is never an easy decision to cancel a patient's operation and we are writing to all those who will be affected to offer our sincere apologies," said Dr Assad.
Last month, Abertawe Bro Morgannwg University Health Board said beds on one of three wards at Neath Port Talbot Hospital, as well as its Medical Assessment Unit (MAU), will transfer to neighbouring hospitals to help deal with a staff shortage
On Tuesday, the head of the NHS in Wales warned a staff shortage next year could cause a risk to the health service.
NHS Wales Chief Executive David Sissling said local health boards had to "live within their means", adding next year would involve "many stretches and risks".
The British Medical Association (BMA) Wales said in a statement that there was a "lack of enthusiasm from doctors to come to live and work in Wales", for a variety of reasons and said more needed to be done to improve the situation.
The risks currently posed to patient safety - and to medical training, are unacceptable," it added.