Team GB gold medal rowing coach Robin Williams's joy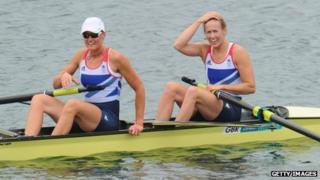 The Welsh coach of the two rowers who won Team GB's first gold medal of London 2012 has spoken of his joy.
Robin Williams, 53, of Chepstow, has coached former Cardiff student Helen Glover and Heather Stanning since 2010.
The pair ended Team GB's four-day wait for gold by clocking a time of 7:27.13, also becoming the first British female rowers to win an Olympic title.
"They rowed better than I had hoped," said Mr Williams. "They were so commanding."
Glover and Stanning won their race by more than a length at Eton Dorney on Wednesday morning.
"They had it in them," said Anglesey-born Mr Williams. "We've seen that in them over the past two years, but they still had to do it."
Mr Williams, who was Cambridge University's rowing coach for 11 years, during which time he coached Wrexham's current Olympic rower Tom James, said there had been a heavy burden of expectation on the pair.
"There was a lot of stuff that came with that expectation before the race, of course, but it went to plan. It's their first Olympics but they rose to the occasion."
With the honour of having won Team GB's first gold of London 2012, Glover and Stanning's victory has won them national attention.
"That was never going to motivate us more than just winning the race itself," said Mr Williams, "but it's quite a thrill.
"It's the first ever rowing gold medal for British women. It's something for the record books."
Asked how he felt as they crossed the winning line, Mr Williams replied: "It's hard to put into words really. Elation, and a massive amount of relief."
Glover studied BSc (Hons) Sport and Exercise Science at Cardiff Metropolitan University (CMU) and graduated in 2007.
Professor Antony Chapman, vice chancellor, said: "On behalf of the university, I would like to extend our congratulations to our former student Helen as well as her rowing partner, Heather.
"Helen's incredible achievement and excellence in her chosen sport has made the whole nation proud."
Other former CMU students at London 2012 include 400m hurdler Dai Greene.