EuroMillions: 69 Welsh ambulance paramedics split £1m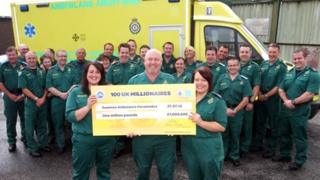 A £1m Lottery prize has been split between a syndicate of 69 Welsh Ambulance Service paramedics, giving them just under £14,500 each.
The group, based mainly in Swansea, scooped one of 100 £1m prizes in last week's EuroMillions Millionaire Raffle.
They are aged between their early 20s and early 60s, and plan to spend their cash on a variety of uses, including holidays and paying for a wedding.
Other Welsh winners were two factory workers from Caerphilly county.
The ambulance syndicate is made up of mostly paramedics, working 12-hour shifts at stations in Cwmbwrla, Sketty, Gorseinon, Morriston, and Neath.
The syndicate has been running for only 17 weeks.
Syndicate leader Andy Vaughan, 54, said: "We're amazed this has happened to us - it's fantastic.
"£1m is an incredible sum and our individual wins will make a huge difference to many of us.
"These are hard times with the economy and some winners have been in tears finding out that life will now be a little easier.
'Sky high morale'
"We do our job for the love of it. Helping save lives every day gives us huge motivation to be professional.
"There are lots of people who are over the moon this week - morale is sky high."
The other winners from Wales were Chris Edwards, 48, from Hengoed, and Idris Tipper, 59, from Trecenydd, who work at the Orangebox Furniture Factory.
They decided to enter the draw as a one-off.
Mr Edwards said: "We both agreed to spend £5 each and get five lines, and I bought the ticket at 6.53pm on Friday night - it was the best £5 I've ever spent."