Forced marriage: South Wales groups' funding battle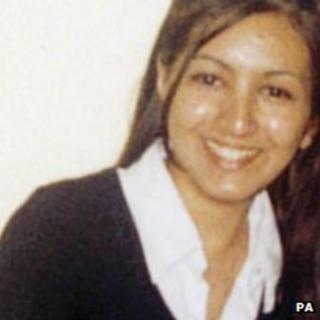 A charity working with women in south Wales who have been through forced marriage claim groups are struggling to survive because of a lack of funding.
It follows the case of teenager Shafilea Ahmed, 17, from Warrington, whose parents were jailed for life last week for her murder.
Their trial heard that Shafilea had resisted an arranged marriage.
The Welsh government says groups helping women have been given a share of £4.16m this year.
Forced marriage is often linked with so-called "honour" killings and domestic violence. It is a marriage when one or both people do not consent and pressure or abuse is used.
The UK government's forced marriage unit says that in 2011 it dealt with 1,468 cases of people looking for help. A small number - 1.3% - were from Wales.
The four police forces in Wales said they dealt with a total of 43 cases of forced marriage and so-called honour violence in 2011/2012 - almost all in south Wales.
Maanzil, a new privately-funded support group which is currently helping about 10 women, has set up a 24-hour help line and meets every fortnight to see how the women are getting on and to help them train for jobs.
"By the time they would get to us, it would be after they've been housed by the refuge or the safe house under police protection," said Samaya Mohammed, the trustee of the group.
"They've been through the system for so long that they see it all as paperwork. Our job as an organisation is to make these women realise they have a choice because everybody has a choice."
But Ms Mohammed also claimed other charities helping women were struggling to keep going.
"There are a lot of organisations that lost their funding and re-launched again recently in south Wales," Ms Mohammed added.
"It's all down to the resources and the funding. There's a lack of it yes, and there's a lack of it particularly in this sector.
"Obviously the organisations and the government know the statistics because you can see it in case like the Shafilea (Ahmed) case in the media and there are several cases like that.
"But then there's lack of funding put through by the government for cases like this and I'm not sure why that carries on happening."
Other groups like the Henna Foundation used to receive money from the Welsh government but now the charity funds itself for the work it does in Wales.
A Welsh government spokesperson said: "Voluntary organizations and community safety partnerships who provide domestic abuse support services across Wales have received a share of £4.16m funding in 2012-13.
"During 2010-11, we provided funding to South Wales Police working in partnership with the Henna Foundation and the Black Association of Women Step Out (BAWSO) to provide four training courses on dealing with cases of forced marriage which may lead to earlier identification and intervention in cases of forced marriage."
In June, the UK government announced a new law would be introduced making forced marriage a criminal offence in Wales and England.
Ms Mohammed said she hoped other victims of forced marriage will be encouraged to come forward.
"There will be other young girls like Shafilea or even young women who will think, 'it's not just me, I'm not on my own' .