Stroke, diabetes: Wales One in 10 hunt for those at risk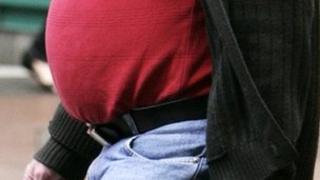 A campaign to find the one in 10 people in Wales at risk of developing diabetes or having a stroke has been launched.
About 11,000 people suffer a stroke in Wales each year, while an estimated 350,000 are unaware they risk developing Type 2 diabetes.
Free risk assessments will be on offer at 714 chemists during the two-week One in 10 campaign from 3 September.
Last year the pharmacy campaign focused solely on diabetes.
In all 17,500 people were assessed and 8.4% were found to be at high risk of developing the condition, whilst nearly a quarter had an increased risk.
The new campaign is a joint initiative by Diabetes UK Cymru, the Stroke Association, Public Health Wales, Community Pharmacy Wales and all seven health boards.
The director of the Stroke Association in Wales, Ana Palazon, said it was important people know their risks as strokes can be prevented.
"Once you know you are at risk, there are plenty of things that you can do to lower your chances of having a stroke, such as changing your diet, giving up smoking and cutting down your drinking," she said.
Dai Williams, director of Diabetes UK Cymru, added the campaign would be worthwhile if just a fraction of those at risk were found.,
Risk assessment
"Diabetes is heavily related to lifestyle," he said.
The risk assessments offered in pharmacies will take a few minutes and, depending on the results, people will then be referred to their GPs.
People unable to attend their local pharmacy can carry out a diabetes risk assessment online at www.diabetes.org.uk/riskscore.
Meanwhile, at the National Eisteddfod of Wales in the Vale of Glamorgan, an appeal to fund more defibrillators in public places around Wales was being launched.
The Public Access Defibrillator Scheme (PADS) allows trained volunteers to follow nstructions which will help give people who have suffered a cardiac arrest a chance of survival.