Colin Jackson promises Olympics ties to be toned down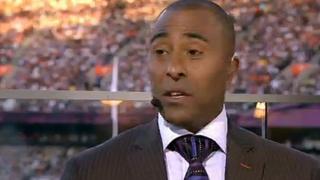 BBC TV Olympics pundit Colin Jackson has promised to tone down his fashion sense after Twitter users turned on his ties.
The Cardiff-born former world champion hurdler is part of the BBC commentary team inside the Olympic Stadium.
A number of tweets poking fun at his dress sense and the size of his tie's knot were posted over the weekend.
Jackson replied on Twitter that one tie was "shocking on TV" and promised "plain ties from here on in".
One tweet said "Colin Jackson wears the worst ties ever," another said his tie choice during the week had been "shocking".
Entertainer Julian Clary tweeted: "Colin Jackson's tie. Discuss."
Mail On Sunday TV critic Ian Hyland tweeted: "That massive knot in Colin Jackson's tie is a new Personal Best."
Jackson, a silver medallist at the Seoul Olympics in 1988, responded by tweeting: "Oh no. Tie was shocking on the TV. In the flesh looks very different. Lol (laugh out loud), it won't happen again, promise, plain ties from here on in."
There was also reaction on Twitter when behind the scenes footage was shown by the BBC of Jackson watching the 100m Olympic final on Sunday night.
The pundit forgot the eventual silver medallist Yohan Blake's name in the excitement, and said: "Look at what's his name".