Lord Aberdare's fight for sport for all classes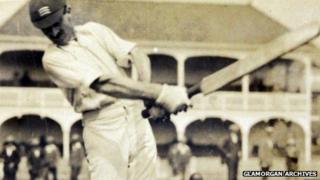 The role of a Welsh aristocrat, who championed the Olympic ideal more than 60 years ago, as well as encouraging mass participation in sport, is being celebrated.
One historian of the post-war London Olympics has dubbed him "the Seb Coe of the 1948 Games".
Clarence Napier Bruce, 3rd Baron Aberdare, was pivotal in bringing the so-called austerity Olympics to London in the aftermath of World War II.
Lord Aberdare had been warning for two decades that sport needed to be made more accessible to all classes.
He was a keen sportsman, and even though he never got to compete at an Olympics himself, he won the British, French and US amateur tennis titles, qualified for the Open golf championship, and played first-class cricket.
His correspondence is now kept by the Glamorgan Archive on behalf of the nation, and its archivist Heather Mountjoy explains how they give a fascinating insight into his motivation.
"The first thing which strikes you is what a sport fanatic Clarence Bruce truly was," she says.
"His scrapbooks are full of photos of him competing in tennis, cricket and golf, and he kept every scorecard and newspaper clipping from every match in which he was involved."
"But when you read a bit more closely, you can see that it wasn't just his own sport he was obsessed with. He had a deep patriotic concern about the declining health of the nation and where the next generation of sportsmen were going to come from."
"In many ways his ideas were before their time. Today, campaigning for councils to provide affordable access to playing fields and swimming baths is nothing strange, but in the 1920s and 1930s it must have seemed a bit eccentric."
His lobbying led to the establishment of The National Fitness Council in 1937.
Born a second son in 1885, Clarence grew up not expecting to inherit his father's Baronetcy, and so trained as a lawyer.
His grandfather was home secretary and his father friends with Elizabeth Bowes-Lyon - later the Queen Mother.
But his elder brother died in action in Ypres in October 1914, making Clarence the heir-apparent.
No longer having to work for a living, Clarence could dedicate himself to his numerous sporting accomplishments.
However, he realised from an early stage that the number of wealthy people in this fortunate position was dwindling, and that British sport needed to cast the net wider if it was to remain successful.
In 1927 he used his sporting profile to raise funds to send a GB team to the 1928 Olympics.
At the time this was a radical departure, as up until then only athletes who had been able to fund themselves had been eligible for selection.
Though Clarence's papers show that he was so enthusiastic in this role that he raised £40,000, worth around a million pounds today.
He urged patrons and friends to:
"Become missionaries and go out into athletic circles in which you move, to spread the gospel of the Olympic ideal, so that we might equip, transport and house the British teams selected to go to Amsterdam [in 1928]."
Whilst the Games were one of the most successful to date for Britain, Lord Aberdare had to make an economic as well as sporting case before government would listen.
He argued that the generation lost in the Great War, combined with young people who were increasingly undernourished and employed in sedentary jobs, meant that Britain was poorly equipped to remain an economic or military power.
With another war looming, the government finally heeded his calls in 1937, and Clarence was appointed chair of the National Fitness Council.
Though perhaps his crowning achievement was bringing the 1948 Olympics to war-torn London, when in the opinion of most of the press and public, they should have been cancelled, as in 1940 and 1944.
"Lord Aberdare, along with Lord Burly, were most definitely the Seb Coes of the 1948 Games," said Janie Hampton, author of 'The Austerity Olympics 1948'.
"They took vicious abuse in the newspapers, who said it was too close to the end of the war, people were still being rationed, and they wanted to waste money on a 'silly Olympics'."
"But Lord Aberdare was adamant that sport would help heal Britain and the world. They came from a generation of military officers who were used to getting things done, and working on a budget of just £750,000, they actually made a £29,000 profit, and proved the doubters wrong!"
Lord Aberdare also campaigned into his 70s, on behalf of St John's Ambulance and the Playing Fields Association.
He drowned aged 72 in 1957, when his car crashed off a ravine in Yugoslavia.
His legacy lives on today in the form of the annual Lord Aberdare Literary Prize for works of sports history.