Eisteddfod: Isaias Grandis is Welsh Learner of the Year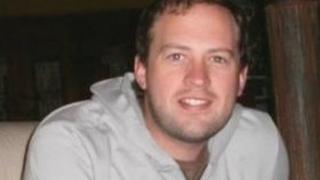 A Patagonian man has won the Welsh Learner of the Year award.
Isaias Grandis grew up in the Welsh-speaking part of Argentina but said he found it hard to understand the accents when he first came to Wales in 2006.
He beat finalists Ashok Ahir, from Cardiff, Mark Morgan from Pontyclun and Rhian Dickenson, from Abergavenny.
The winner was announced at the Bear Hotel, Cowbridge, close to where the National Eisteddfod is being held in the Vale of Glamorgan.
Elwyn Hughes, one of the judges, said all 32 competitors in the event were "remarkably fluent", and they had been looking for "somebody special in terms of their character, their inspirational qualities".
Eisteddfod organiser, Hywel Wyn Edwards, said: "The standard this year has been very high, and it's been great to see so many people competing.
"It's a clear indication of the importance of this competition as part of the National Eisteddfod."
Mr Grandis speaks Spanish and Welsh, and through an interpreter he said his family moved to the Welsh-speaking area of Patagonia from the middle of Argentina.
The interpreter said: "Now that he has come back again, he has found that he has developed and he now can understand people from all areas".
The finalists were:
Ashok Ahir: Aged 42, the the former managing editor of BBC Wales' political unit. He began learning Welsh in 2005. A co-chair of governors at two Cardiff Welsh-language schools, he interviews staff in Welsh.
Rhian Dickenson: She is head of Welsh at Abergavenny's King Henry VIII School, and teaches Welsh as a second language to A-level standard. Brought up in Gilwern, she started learning Welsh at school.
Isaias Grandis: A native Spanish speaker, he became interested in the "foreign" language he heard neighbours speak after his family moved to the Welsh-speaking area of Patagonia. He began learning Welsh at 15.
Mark Morgan: The 39-year-old is a a Regimental Sergeant Major in the British Army. He realised he had to learn the language when he and his wife Ceri decided to bring up their two sons in Welsh. He continued studying during a tour in Afghanistan in 2007.