Millennium Stadium's apprentice groundsman sought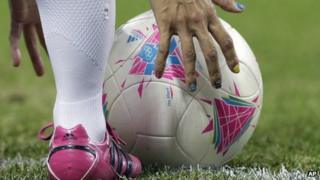 As apprenticeships go, this one could make Lord Alan Sugar's selection process look like a walk in the park.
One candidate's work will be under the scrutiny of the world's best sporting teams, and the eyes of a rugby loving nation - as apprentice groundsman at Cardiff's Millennium Stadium.
Head groundsman Lee Evans will train the successful applicant for two years.
The "tough" but "exciting" opportunity is open to 16 to 24-year-olds.
In its 15 year history, the green, green grass of Wales has been re-laid more than 30 times in response to attacks from enemies as varied as enormous Samoan forwards to an infestation of tiny Bibionidae flies.
In 2011, the Millennium Stadium's surface was slammed by the late Gary Speed as being a "park pitch", and now - during the season when it usually gets a rest - the surface has taken a pounding while hosting Olympic football.
In order to ensure it is in prime condition to host Wales' autumn rugby internationals, head groundsman Mr Evans has been given the go-ahead to select a lucky apprentice, who will be trained over two years in the arts of the stadium's turf.
"While I've no doubt that the training will be tough at times, this is an exciting, once-in-a-lifetime opportunity for young people in Wales and the successful candidate will be joining a great team at one of the greatest sports stadia in the world," he said.
The former Aston Villa and Fulham groundsman says the home of Welsh sport comes with a unique set of difficulties.
"The Wales [rugby] team like a hard, fast surface with the grass quite short, but the design and nature of the Millennium Stadium is not conducive to growing grass and we have had our problems in the past because of this.
"The steep-sided bowl, which creates such excellent sight lines for fans, has the side-effect of producing hostile conditions for the pitch, preventing sufficient light or air movement from reaching it."
Mr Evans says that introducing Europe's first pallet-pitch, as well as round-the-clock grow lights solved many of the early problems.
However BBC Radio 2's resident gardener, Rhondda's Terry Walton, believes the successful candidate will still have to be a mixture of "horticulturalist, biologist and faith-healer".
He says: "Can you think of a better - but at the same time worse - job to have?
"It's not so much gardening as life-support in there, as the Millennium Stadium has got to be the only place in Wales where you can't get grass to grow.
"There will be a lot of technical skills to learn, about the correct aeration, feeding, lighting etc.
"Growing lawns is a completely different skill-set to cultivating other plants and vegetables.
"But all those things can be learnt.
"More than anything else, to go for this job you need an affinity with the soil.
"You need to be able to get to know your particular plant and soil, and learn to listen to what they want, because every garden and pitch is unique in that sense."
As well as being able to call on the experience of men and women who have learnt the stadium's secrets the hard way, the new apprentice will also study towards a "nationally recognised work-based horticulture qualification" at Pencoed College.
Anyone aged between 16 and 24 who is interested can apply via the Careers Wales website.