Jade Jones celebrates Olympic Taekwondo gold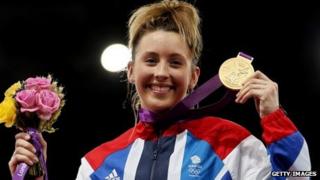 Taekwondo fighter Jade Jones's dreams of becoming an Olympic gold medallist have come true after she won her final at the London 2012 Games.
The 19-year-old who fights in the 57kg category has earned herself the nickname "head hunter" for targeting her opponent's head.
It earns the Flintshire teenager more points than a body kick.
And Jones has said one of the secrets of her success is eating jelly before a fight for energy.
Jones recently gave an insight into her ambitions and preparations in her BBC column for this competition, which included focusing on her diet - heavy on pasta and jelly.
The man who first spotted Jones's talent in 2005 explained her style of fighting.
"Jade likes to kick to the head," said David Baker, chairman and head coach of Matrix Taekwondo.
"I knew she was capable of something great.
"It was her willingness to train. She loved training. She never complained if the training was too hard.
"If anything, she might have had a bit of a face on her if the training was not hard enough. She really liked to be pushed.
"When you have got somebody with that attitude, and the skills that she had, the flexibility, you knew that there was was lot of potential there."
Although born in Bodelwyddan, Denbighshire, Jones grew up in neighbouring Flintshire.
She started taekwondo aged eight when her grandfather Martin introduced her to the sport.
By 2010 she won gold at the Singapore Youth Olympics - partly thanks to the people of Flint, when local businesses and pubs raised the £1,600 she needed to go to the Youth Olympic qualifiers.
Jones acknowledges the support she has received from the public and has a very large and loud loyal following in the town.
Hundreds of her fans gathered in the town to watch her compete in the Olympics.
And around 250 people gathered at Flint's Sports and Social Club last month to wish her luck ahead of the Games.
She told them: "Obviously I'm going there for gold and I won't be happy with anything less."
It is that determination that has seen her reach the sporting heights.
More family, friends and supporters packed into the club again on Thursday night to watch her win the gold.
Pam McClean, head teacher at Flint High School, said Jade was an inspiration to young people throughout Flintshire.
"What singles Jade out is her determination to win," she said.
"She is so modest about her talent, which is remarkable.
"We are absolutely delighted for her and her lovely family, who have supported her all the way."