Ceredigion flooding fund money for victims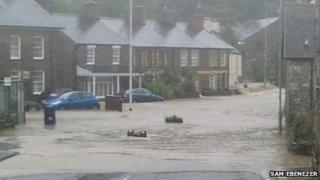 More than £80,000 will be shared out among victims of summer flooding in Ceredigion after an appeal fund raised money to help them.
Heavy rain in June caused damage to properties and affected more than 1,000 people in northern parts of the county.
A total of £105,000 has been collected through the council leader's appeal fund and 130 people will receive a payment of £700 or £250.
The first cheques were given at a ceremony on Friday.
A decision will then be made about what to do with the remaining balance.
Ceredigion council's fund was founded in the wake of the floods.
It received a "generous" donation from Prince Charles after he and the Duchess of Cornwall visited flood victims and local emergency services in Aberystwyth last month.
A total of £80,650 will be shared between affected households, with the amount of money given set out by the fund criteria.
Councillor Ellen ap Gwynn, the council leader, said the local authority had allocated staff time and resources to administer the appeal.
"I'm extremely glad to be in a position to release funds to the victims of the floods," she said.
"I hope that the money will go some way towards helping permanent residents in their efforts to get their homes back in order as quickly as possible."
The appeal fund will remain open to receive donations until 8 June next year.
Last week, a council report written days after June's deluge suggested that communities where homes were flooded might be asked to contribute towards flood defences.
Aberystwyth and the nearby villages of Talybont, Dol-y-Bont, Capel Bangor, Llanbadarn Fawr and Llandre were among the areas affected by the heavy rain which fell between 8 and 9 June.
In the days after, some families driven from their homes by the water were warned they would have to leave for up to six months, while businesses, especially those in the tourism industry, were told they would be offered government support.