HM Revenue and Customs: Wales security incidents top 1,000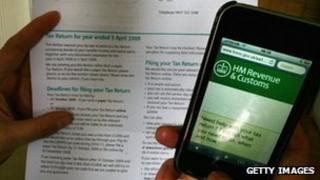 More than 1,000 security incidents have been recorded at HM Revenue and Customs (HMRC) offices in Wales since April 2011, the BBC has learned.
Official vehicles have been stolen and building passes and mobile phones lost, along with the unauthorised disclosure of customer material.
Incidents also include staff injuries and threats from members of the public.
HMRC said it took security "very seriously" but the TaxPayers' Alliance said the issues were "worrying".
The information was obtained in a Freedom of Information request by BBC Wales' Newyddion Ar-lein website.
HMRC responded with monthly totals going back to 1 April 2011, when it said it introduced a new central security incident reporting system.
It said the 1,135 incidents reported covered a wide variety of circumstances including:
Thefts of official vehicles and thefts from our buildings including staff possessions
Actual and potential unauthorised disclosure of customer material
The loss of building passes or mobile phones
Threats and injuries against staff by members of the public
Unusual and threatening behaviour at HMRC sites
Business continuity issues such as fires, IT service issues, office closures through poor weather
HMRC said each incident was investigated locally by staff and business managers "to identify root cause and introduce new processes to reduce the likelihood of reoccurrence".
It added: "HMRC takes security of its assets, including staff, buildings and data very seriously.
"We encourage our staff to record all incidents so that we can identify deficiencies and drive forward improvements.
"This includes events where there has been an impact and those where an impact has not occurred but a potential weakness has been identified."
Reacting to the figures, Matthew Sinclair, chief executive of the TaxPayers' Alliance campaign group, said: "It's extremely worrying to hear that the taxman is falling victim to so many security issues.
"HMRC has access to taxpayers' most personal data and must ensure it is adequately protected.
"It's utterly unacceptable for HMRC to disclose information without authorisation, so any such breaches of confidentiality must be investigated and those responsible held to account."
HMRC has offices in Bangor, Bridgend, Cardiff, Carmarthen, Colwyn Bay, Merthyr Tydfil, Newport, Pembroke Dock, Porthmadog, Rhyl, Swansea and Wrexham.
It also has staff based at other public buildings in Aberystwyth, Brecon, Cardiff, Haverfordwest, Llanelli, Pontypridd and Pontypool.