Cake Crew Bakery: 100 workers locked out in Bala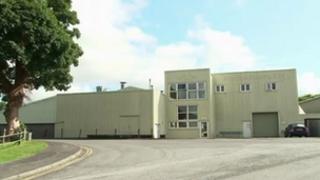 There are fears for the future of about 100 jobs after workers were locked out of the Cake Crew Bakery in Bala, Gwynedd.
A company working for the landlord of the building is also believed to have removed items from the site.
Local MP Elfyn Llwyd said it stems from a change in the situation between the company and landlord.
Talks are continuing, and Baker Tilley, which represents the landlord, said it was hopeful of a resolution soon.
He said he understood that negotiations had been going on for a while.
"I did write a few months ago, and things eased then. I have written yesterday to Baker Tilley and to be fair they wrote back immediately to tell me what the situation was."
Negotiations were urgently going ahead on Tuesday, he added.
"I very much hope they reach fruition because if we lost these 100 jobs in the Bala area it would be an inestimably bad blow and we need to avoid it at all costs," he said.
A spokesman for Baker Tilley said it was hopeful there will be a resolution in the next few days.