Local TV: No bids for Swansea, but two for Cardiff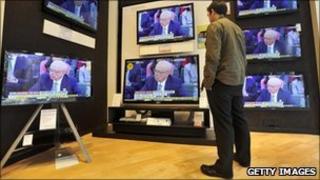 A Swansea Labour MP has criticised the UK government's plans for local TV as a "farce" after no-one came forward to run a station in the city.
Swansea West MP Geraint Davies chaired a meeting to promote the opportunities of local TV, but then learned it would reach only 50,000 people.
However, two bidders have applied to run local TV in nearby Cardiff in a pilot scheme.
Mr Davies wished Cardiff luck, but said Swansea had not been given a chance.
UK Culture Secretary Jeremy Hunt has claimed there was a "real demand" for programming more local than that offered by the BBC or commercial TV.
But critics have questioned the need for more channels and whether small-scale stations would be commercially viable.
Cardiff and Swansea were named in December among 21 "pioneer" locations across the UK identified as having significant levels of interest from potential operators and audiences.
Media regulator Ofcom said it had received a total of 57 applications by Monday's deadline, with no bidders coming forward for Swansea or Plymouth.
The two applicants for the Welsh capital include Cardiff Local TV, proposed by the Bafta Cymru-winning media and technology company Cube.
Public meeting
Made in Cardiff is the other bidder, led by Bryn Roberts, who was managing director of the former TV facilities company Barcud Derwen.
The bid comes from a wider Made TV group aiming to set stations in eleven of the pilot areas across the UK, including Bristol and Liverpool.
As for Swansea, Mr Davies said he chaired a public meeting on local TV in March "in good faith," but was disappointed when he learned the station would only reach 50,000 people in the west of the city and Gower.
"It was a complete farce," he said. "The footprint covering Swansea wasn't viable compared to Cardiff.
"If they'd taken the whole region from Llanelli through Swansea to Neath Port Talbot they'd have reached 400,000.
"But even if the audience was there it's not clear there was a viable business case.
"With the advent of YouTube and various media platforms, it wasn't really a goer.
"I wish Cardiff the best of luck - Swansea wasn't given a chance."
The successful bidders are expected to take to the airwaves in September 2013.