A-level results: NUT hopes Wales grade gap will narrow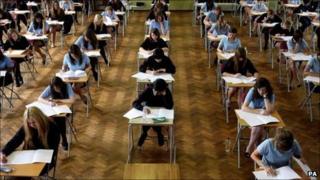 A-level pupils in Wales are set to pick up their results amid hopes they have narrowed the performance gap with the rest of the UK in the top grades.
Last year, there was a rise in the overall pass rate for Welsh students, but the number achieving A* and A was below the UK average.
The Welsh government said that was because Welsh Baccalaureate results were not included in the figures.
Teaching union NUT Cymru said it hoped to see the gap narrowing.
Higher fees
This year applications to all Welsh universities are down and they are all expecting to have places available for pupils going through the clearing process.
Pupils who go on to university will be the first to be charged higher fees - some as high as £9,000 per year for their course.
However, Welsh students will not have to pay more than the previous fee of around £3,500 a year, with the shortfall being met by the Welsh government, wherever they choose to study in the UK.
Last year, just over 97% of pupils achieved A* to E grades - a slight increase on the overall pass rate on 2010.
But 6.3% of students achieved an A* - a drop on the previous year - and almost 2% behind the UK average. There was a bigger gap of 3% on A grades.
But Education Minister Leighton Andrews refused to accept that performance in Wales was worse than the rest of the UK.
He pointed to the fact a record number of young people - around 7,000 - gained the Advanced Diploma in the Welsh Baccalaureate, which is equivalent to an A grade at A-level.
He said that was not included in the A-level figures so they did not give a full picture of post-16 education in Wales.
Owen Hathway, policy officer for the National Union of Teachers (NUT) in Wales, said A* grades were still the "gold standard" and were important as they were the ones looked for by universities and employers.
He said he hoped to see Welsh pupils narrow the performance gap with the rest of the UK.
"Hopefully [last year] will be a blip that will be addressed and we will see positive results showing improvements in that area," he added.
He said he was aware of "some concerns" among some parents about the Welsh Baccalaureate.
But he added: "We know it's a decent qualification."
Options available
Last year, some Welsh universities did not offer places through clearing but this year they are all expecting to have places available.
University of Wales Newport said it may have double the number of places available compared to last year, while Aberystwyth University said it will be part of the clearing process for the first time in three years.
Amanda Wilkinson, director of Higher Education Wales, which represents higher education institutions, said there were options available to pupils who did not get the A-level grades they needed for their chosen university course.
"Applicants who have met their offer will be admitted to their courses," she said.
"For those who might be considering their options from afresh or have decided to change direction as a consequence of their marks, we advise that they enter clearing and contact admissions officers to weigh up their different options."