Ringed pied flycatcher surprises experts 16 years on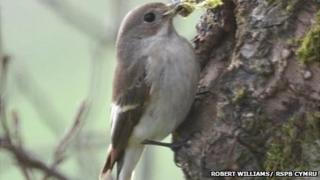 A small bird which migrates from west Africa for summer in north Wales has surprised experts after being spotted 16 years after it was first ringed.
RSPB workers say it "amazing" that the female pied flycatcher has been found thriving after so long.
They say the previous oldest was nine years and seven days old.
It was spotted by British Trust for Ornithology (BTO) ringers in a forest near Clocaenog, Denbighshire and was first ringed at Lake Vyrnwy in Powys.
Peter Bache ringed the bird in 1996 at the lake, where he has been doing the job for 25 years.
He said he "can't believe she is still going strong and still breeding, an amazing accomplishment for such a small bird" which catches flies and is slightly smaller than a house sparrow.
The male is mostly black on its upper body and white underneath, with a bold white patch on the folded wing.
Females are brown in colour and usually visit Wales in the summer months, spending the winter in west Africa.