Garden bird sightings 'down 25%', says RSPB Cymru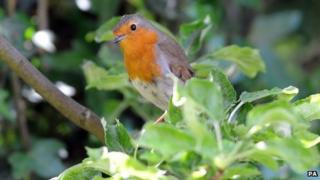 Sightings of some common garden birds are down by a quarter, with the cold wet weather early in the year the most likely cause, says RSPB Cymru.
A survey of 4,000 gardens in Wales found thrush species - blackbirds, robins and song thrushes - were seen up to 27% less than in 2011, it said.
The survey in early June also noted fewer sightings of blue tits, great tits, magpies and house martins.
The charity said: "A number of species may have had a tough time."
It said adult birds would have found it harder to find enough food for their chicks in the early part of the breeding season.
The chicks would have been more vulnerable to the cold with the adults being away from the nest for longer while they searched for food, it said.
'Devastating'
The Make Your Nature Count survey asked 4,000 volunteers to count the birds and animals they saw on their land in the first week of June.
RSPB Cymru senior conservation scientist Ian Johnstone said it proved a useful "snapshot" of how wildlife has fared.
He said it delivered "data on a scale that just wouldn't be possible if we tried to collect it in any other way".
The charity said the survey showed blue tit sightings were down by over a third while those of great tits, magpies and house martins were down by around 25% on the previous survey.
However, Wales seems to have bucked the trend for swifts, a species on the amber-list of conservation concern.
There is concern that, across the UK overall, swifts had had a "devastating" breeding season but the garden survey in Wales showed a 28% increase in sightings.
Adult blackbirds also fared well, having been recorded as the most widespread bird across Wales and were spotted in more than 90% of the gardens surveyed.