Racist parents: Daughter Jane Champion's reconciliation hopes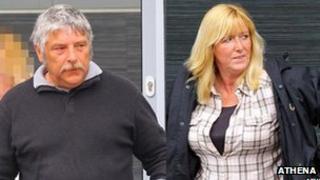 A teenager assaulted by her parents for having a black boyfriend says they have apologised and now been forgiven.
David and Frances Champion from Swansea were jailed for 12 and nine months respectively after they admitted the attack on Jane, now 18.
Her boyfriend Alfonce Ncube, 21, from Zimbabwe, who was also racially abused, says he has also forgiven them.
In a BBC Radio Wales interview he said he has encountered a lot of racism and to hold a grudge would make him bitter.
"They have apologised to me and telling me to say sorry to Alfie," said Miss Champion.
"I haven't visited them yet but I am going to.
"I'd never want them to be in jail ever and they don't what that for themselves.
'Normal family'
"Unfortunately, with the incident and how bad it was jail was the only option really."
Swansea Crown Court heard how Champion and his wife attacked their daughter when they returned home one night to find her with Mr Ncube.
They attacked her again a few weeks later when Ms Champion admitted she was still seeing him.
The court heard they hit Jane for "bringing shame" on the family.
The father also abused Mr Ncube with racist language before grabbing and kicking him.
Asked if she forgave her parents, the student said: "Of course I do, yes.
"I just want us to carry on like a normal family.
"I love them and I hope to see them soon."
Mr Ncube told BBC Radio Wales: "I forgave them a long time ago to be honest because I have encountered quite a few racist people here.
"If I was to keep a grudge for all of them I would be a bitter person so I have to forgive and forget and hope that they change and adapt to changes of society."