Welsh universities accept almost 19,000 students so far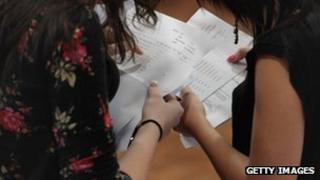 Almost 19,000 students have been accepted so far at Welsh universities, down by about 1,100 compared to the same time last year.
The figure was released the day after students got their A-level results.
The number of pupils from Wales with the highest grades fell for a third year, but those who passed rose slightly.
Universities say vacancies are available in a range of courses through the clearing process.
Cardiff University, Wales' biggest, said it had a limited number of places for "well-qualified students". Vacancies included journalism, social sciences and geography.
Swansea University said it had places available for all courses for candidates with the best qualifications and said it was keen to hear from undecided students with high grades.
It said this was an "unprecedented" time of change in university applications.
"As a consequence, opportunities for study and enrolment are emerging which previously have not existed in the period after A-level results are announced," it said.
Glamorgan University had a "limited number of places available for suitably qualified students across a number of subject areas".
Aberystwyth University had vacancies in all academic departments. This is the first time it has participated in clearing for three years.
The University of Wales, Newport said its clearing centre had been busy throughout Thursday and Friday.
'Keep calm'
"However, as we had up to double the number of places going into clearing compared to last year, we still have places left on a number of courses," a spokesman said.
"We would advise students to keep calm and give us a call, or consider visiting our clearing open day on Monday."
The admissions service Ucas said Welsh higher education institutions had accepted 18,929 applicants by 12:30 BST on Friday, compared to 20,088 at the same stage last year.
The figures include students offered places before getting their A-level results, not just those gaining entry through clearing.
Ucas said there were many more courses with vacancies in clearing this year across the UK.
Tuition fees
Clearing matches students with vacancies if they were rejected because they did not get their required grades.
The proportion of A* to E grades awarded in Wales rose from 97.2% last year to 97.6%.
Students starting university this year will be the first to face tuition fees of up to £9,000.
But students from Wales will continue to pay the previous fees of around £3,500 a year wherever they choose to study, with the Welsh government making up the difference.