Betsi Cadwaladr health board review consultation starts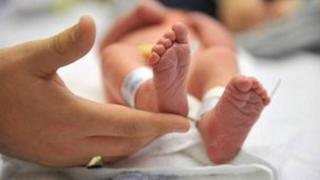 A north Wales help group for parents with babies needing intensive hospital care are opposing plans to base it in England.
They are concerned relatives will have too far to travel if longer term neo-natal care moves to Wirral.
Health officials say it would apply to babies needing further levels of intensive care beyond the short term.
They start a 10-week consultation on Monday over a radical shake-up in the NHS in north Wales.
Officials from Betsi Cadwaladr University Health Board (BCUHB) agreed last month to start discussions over the planned changes after a review which began in 2009.
The proposals include the closure of community hospitals and minor treatment units, which has also led to a public outcry.
Members of Glan Clwyd's Special Care Baby Unit support group and charity, Cuddles (Care Understanding Devotion to Duty for the Lives of the Extremely Small), are opposing proposals affecting newborn babies requiring intensive care currently provided at the hospital in Bodelwyddan, Denbighshire, and at Wrexham Maelor Hospital.
A statement said members "strongly protest," and calling plans a "retrograde step".
They cite concerns over parents having to travel long distances between homes and families in north Wales if their baby has to receive treatment at Wirral's Arrowe Park Hospital.
The health board wants to develop a single neonatal intensive care service for north Wales babies needing "complex level of care". That amounts to about 36 babies of the 7,300 births in the region annually, which could be commissioned from the Wirral hospital.
'Difficulties with staffing'
It points out that all three hospitals, including Bangor's Ysbyty Gwynedd, will continue to provide immediate short-term intensive care as well as special care baby units and high dependency units, but that a new service will be set up for babies needing further levels of care.
It says there are national standards for neonatal services in Wales and the UK.
"Our services do not meet these intensive care standards and there are particular difficulties with staffing levels," said its online discussion document.
"To set up a single large neonatal unit in north Wales would be difficult in terms of recruiting sufficient staff and very challenging financially."
BCUHB is the first in Wales to outline plans for balancing the books.
It predicts a gap of £64.6m, the second highest in Wales.
However, BCUHB said its main motivation was to improve patient care which followed an extended review process, led by clinicians.
In 2009 a series of reviews began across north Wales looking at all health services, and it has been feared for some time that community hospitals could close as a result.
But the affected buildings would be refurbished, according to the report, "to provide enhanced community services… and a base for community staff".
Bed care would be would be transferred to neighbouring hospitals.
Petition
The board also proposed a replacement of services currently provided from Llangollen Community Hospital, which would be developed into an extended primary care resource centre with bed care at Chirk.
That prompted an outcry in Llangollen and residents held a protest meeting earlier this month.
It has also led to a petition from people in Chirk concerned about the implications of the closure of its minor injuries unit, according to the Leader newspaper.
Meanwhile, the Flintshire Chronicle said 200 people met in Mold last week concerned about the plans to close units at the town's community hospital.
And Prestatyn Community Hospital Action Committee told the Rhyl Journal of their concerns.
Other minor injury units would close at a number of locations, including Flint, Colwyn Bay and Ruthin.
The health board report last month said that their closure will help to strengthen the provision at 10 hospital hubs across the region which will be the focal point for communities.
They include the three main hospitals, Ysbyty Gwynedd, Glan Clwyd and Wrexham Maelor, but also smaller ones like Dolgellau Community Hospital, Llandudno and Deeside hospitals.
Patient health watchdogs at Betsi Cadwaladr Community Health Council are urging people to have their say on the plans.
The health board is offering a number of ways for people to share their views, including a website, BCUHB Join the Debate.
The consultation period runs 10 weeks from Monday 20 August.