GCSEs in Wales review progress analysed by Betsan Powys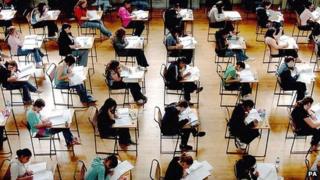 Right class of 2012, let's start the lesson with some revision.
If you shudder at the thought of GCSEs, the General Certificate of Secondary Education, you must have been a teenager in the late eighties, or later still.
That's when the GCSE was introduced in Wales, England and Northern Ireland, with the first pupils taking the first exams in 1988.
Until then it had been ordinary, or 'O' levels and CSEs that measured academic achievement - and caused the same sort of shuddering.
It was a Conservative government that made the change and it's a Conservative Education Secretary, Michael Gove, who now wants to reverse it.
Getting rid of O levels was, he says, a "historic mistake" by his party that led to falling, if not tumbling, education standards and the introduction of too many "Mickey Mouse" courses that could be tackled module by module, piece by piece.
Under Mr Gove's proposals from 2016 pupils in England will once again face O levels, exams described as "explicitly harder" designed to set a single "gold standard" test. Less able pupils will sit exams similar to the old CSEs.
Worldwide tests
But education is a devolved area of government, so while Mr Gove can radically overhaul the system in England - putting right that "historic mistake" as he sees it and running into trouble with coalition partners the Liberal Democrats - decisions about the future of the system in Wales are in the hands of the Welsh Labour government.
A review is under way in Wales into the future of GCSEs, considering whether Wales should stick with them, or scrap them, whether and how the qualifications system could be simplified.
Ministers are acutely aware of international evidence that says Welsh pupils have been losing ground, falling behind in worldwide tests in reading, maths and science. The government knows its critics say it should concentrate on raising standards, rather than blaming the qualifications themselves.
They are, say ministers, tackling those very standards in the classroom but are also aware that when the work is done, they have to ensure that qualifications gained by pupils in Wales are "relevant, valued and fit for purpose".
So after the revision comes the problem and the questions. If England take a different path and if the new-look O levels are indeed regarded as setting a "gold standard", how far should qualifications in Wales diverge from those in England?
Groundswell of backing
Should we also revive the O level, or bring in a brand new, distinctively Welsh qualification? If we do, what will it look like and again, if we do, how can ministers - and perhaps more importantly, pupils, parents, universities and employers - be certain that they will be nationally and internationally respected?
Huw Evans is chairing that independent inquiry into the future of qualifications in Wales on behalf of the education minister, and says their consultation has got a good reception.
He said: "I have to say that it's been very very positively received, and I do believe that most people we've talked to have welcomed the kind of issues that have been raised by the consultation, and believe that it's very timely to look at qualifications in Wales and the future of qualifications."
Mr Evans added that GCSEs were strong and valued qualifications and although they had not picked up a groundswell of backing for changes in Wales similar to those proposed in England, including a possible return to O Levels, that did not mean that GCSEs could not be modernised and improved, including the number of exams sat by pupils, to avoid possible curriculum overload.
Criteria
He stressed that whatever his review panel recommended, it would be essential that any new qualifications would be accepted "globally".
The head of the NAHT union in Wales, Anna Brychan, also indicated that changes to qualification would be embraced by the teaching profession, provided they are carefully designed and implemented.
She said: "The GCSE brand is understood, it is respected, and while there is nobody saying that they should be set in stone, we should look at what is suitable for young people in Wales and base our qualification system on that."
She added that while the teaching profession would adapt to new qualifications which met that criteria, major changes could not and should not be introduced overnight.
A spokesman for Education Minister Leighton Andrews said: "Ministers have no plans to make changes to GCSEs until after the outcomes of the Review of 14 to 19 Qualifications are known.
"We know that GCSEs are valued and understood and any decision on their future in Wales will be taken in a considered way following consultation.
"Our priority will be to ensure that the best interests of learners in Wales are the focus of any decisions that we take"
The review board will report back in November. Then it'll be all eyes on whether the Welsh government can provide the right answers.