Powis Castle bone mystery of cabinet's secret drawer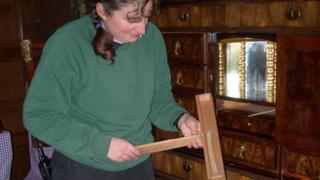 A large animal bone found hidden in a secret drawer has proved a mystery to keepers of a castle in Powys.
The find was made by a visitor in a Charles II cabinet at Powis Castle near Welshpool.
Analysis showed it is most likely from a deer and pre-dates the 1670 cabinet.
One folklore expert said concealing animal bones and shoes behind panelling and under floorboards was considered a way of warding off evil spirits or bringing luck to houses.
The bone had remained hidden from visitors to the castle, whose collection ranges from Asian and Roman sculptures collected by Clive of India, to a portrait by celebrated 18th Century artist Sir Joshua Reynolds.
There is even a master bedroom which has remained untouched since the 1660s.
Emma Marshall, assistant house steward at the National Trust owned castle said they are still no closer to understanding how or why the bone came to be in the cabinet in the first place.
"It really is a gorgeous cabinet, of high value, and the sort of piece that royalty would have had at that time," said Ms Marshall.
"The secret drawer containing the bone was so well hidden. We thought it was the divider between two other drawers but it turned out to be a drawer itself with the bone hidden inside.
"Somebody obviously didn't want it to be found. It really is one of those mysteries."
The castle has been surrounded by controversy and intrigue since it was built in the 12th Century.
The majority of the castles along the Wales/England border were constructed by Norman kings.
However Powis Castle was the fortress of some of the last independent rulers in Wales, the Princes of Powys, who finally relinquished their crown to Edward I in 1266.
Throughout Tudor and Stuart times it changed hands frequently, alternating with the fortunes of its Catholic and Protestant owners.
The bone is not the first discovery staff at Powis Castle have unearthed.
"In the 1900s an Elizabethan shoe was discovered under the floorboards of the Oak Drawing Room," said Ms Marshall.
"That would probably have been put there for luck and the family left instructions for it never to leave the castle. It is still in its own little display case in the Butler's safe."
"Bones of a cat were also found behind Elizabethan panelling in the Long Gallery. These bones could have been put there to ward off evil spirits."
Emma Lile, curator of folk customs at the National History Museum at St Fagans said the practice of hiding items was common place until as recently as 200 years ago.
"These concealments are called 'caches' — a term deriving from the French word 'cache', meaning 'to hide'.
"Shoes are often found hidden under floorboards, around doorways and below staircases.
"Some considered these places to be the weakest part of a building, where evil spirits and witches could enter.
"Cats were possibly put into walls to ward off vermin or served as a good luck charm - and of course people still see black cats as being lucky charms to this day," said Ms Lile.
All the experts have been stumped at the significance of the deer bone however, and why someone went to such trouble to keep it hidden for over three centuries.