Tregaron harness racing festival future threat over weather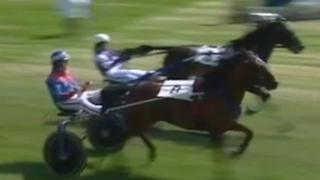 Bad weather threatens the future of Tregaron's harness racing festival, its chairman has said.
This year's festival was due to start on Friday, but persistent heavy rain in Ceredigion has forced organisers to move from Tregaron to the Amman Valley, 45 miles away.
Races will be held this Saturday and Sunday, with Friday's events cancelled.
Organisers say the move is damaging as entrants find other races, and sponsors lose interest.
Between its launch in 1984 until 2007, the festival was only cancelled once, and that was because of the foot-and-mouth outbreak in 2001.
But since 2008, each meeting has been affected by bad weather.
"Because of our experiences over recent years, this time we already had a fall-back plan with Amman Valley, and were able to make the call to cancel Tregaron earlier than we would have done otherwise." said Huw Evans, chairman of the Tregaron festival.
"But every time it happens it has a knock-on and almost hidden cost.
"People get out of the habit of coming here, sponsors lose interest, and entrants find other race meetings."
The highlight of the Tregaron festival, the Welsh Classic, attracts crowds of over 5,000, and features the world's best trotting horses competing for a top prize of £7,000.
It has been described as the Cheltenham of harness racing because of the number of Irish horses and spectators who travel to Tregaron.
"In previous years we've had 50 or 60 Irish entrants, and maybe a thousand spectators," added Mr Evans.
"This year we're down to 30 horses, and who knows whether the fans can rearrange at this notice."
'Losing income'
Mr Evans warned that if the festival was to continue to survive, then organisers and the wider community need to think of radical solutions.
"The only solution I can think of is to replace the grass track with an all-weather circuit," he said.
"The only problem is that it would cost a minimum of £200,000, at a time when our funds are already at rock-bottom after the wash-outs of recent years.
"But there's a good economic case for the council and Visit Wales and local businesses to come into partnership with us, as Visit Wales estimate that the festival is worth around a quarter of a million to the local economy.
"A rural community just can't afford to carry on losing that sort of income every year."
The festival will be held at Neath Port Talbot's Tairgwaith track.