GCSEs: Welsh minister orders English language grade review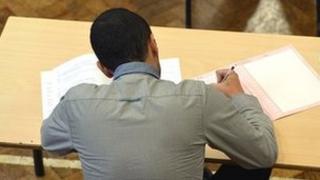 The Welsh government is launching a review into performance in English language in this year's GCSEs.
Education Minister Leighton Andrews wants to know why results fell.
GCSE top grades across the board in Wales, England and Northern Ireland have dropped this year for the first time since replacing O-levels and CSEs.
Mr Andrews has accused UK Education Secretary Michael Gove of pressurising exam boards to mark more harshly, which Mr Gove strenuously denies.
David Reynolds, a professor of education at Southampton University and a senior adviser to the Welsh government, said it was "slightly weird" that passes at GCSE and A-level had both declined overall and at their A and A* grades at the same time.
He said: "It's difficult to avoid the assumption that there's an orchestrated campaign going on somewhere, and the issue is where is that being orchestrated from.
"Is it public opinion, is it the right-wing press or a Tory minister of education? We don't know, but there's clearly something going on.
"The rumours are that the results for those who sat English language early, in January, were very good.
"What happened is that things were toughened up later. We genuinely don't know."
'Serious questions'
Anna Brychan, director of the National Association of Headteachers in Wales, said it was not fair that pupils who had worked as hard as those in previous years may be disadvantaged by the inevitable politics within education.
The drop in exam passes was a "strangely happy political coincidence" with Mr Gove's aims of reducing grade inflation, she said.
She added: "Results in English have reduced to an extent that nobody could explain, unless there were technical and different reasons behind it.
"Schools said that that cohort of pupils who had taken the exams were not significantly different from those in the past who had done rather better."
A Welsh government spokesperson said the exam results released on Thursday "raised a number of serious questions about performance in English language GCSEs".
"We will be evaluating all the available evidence about what has happened, and why.
"This review will obviously include a thorough investigation into the issues of moderation and grade boundary changes."
A Department for Education spokesman said it was "down to the Welsh and Northern Irish administrations to decide how to run their education systems - and down to us to do what is best for English students".