GCSEs: Teachers 'angry' with English grades drop in Wales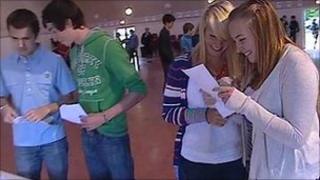 Teaching union the NUT says it has been inundated with members who are "baffled and quite angry" about a drop in grades in GCSE English language in Wales.
Education Minister Leighton Andrews has launched a review and wants to know why results fell.
He has accused his UK counterpart Michael Gove of pressurising exam boards to mark more harshly, which he denies.
Welsh examining board WJEC denies bowing to political pressure.
It has received 1,000 appeals about the English Language GCSE results.
In total, 1,500 complaints had been made across all subjects.
But it insisted it marked all subjects normally and worked with regulating bodies - the Welsh government in Wales and Ofqual in England - to maintain standards.
The number of GCSE entries graded A*-C in Wales fell this year for the first time for more than a decade.
And GCSE top grades across the board in Wales, England and Northern Ireland have dropped for the first time since replacing O-levels and CSEs.
Owen Hathway, Wales Policy Officer for the NUT, said many of its members were "outraged" that there had been a "significant drop" in those achieving A* to C grades in English language.
"We have been inundated with members who have been both baffled and quite angry by the fact that they have been working extremely hard with pupils who should have been getting Cs and have found they have got Ds," he said.
"And pupils who are perhaps D-grade pupils but they work hard enough that they thought they might have an outside chance of getting a C, they have come nowhere near it.
"They have been quite outraged about this issue."
'Something going on'
Derec Stockley, director for examinations and assessment at the WJEC, insisted the organisation did not mark the papers more harshly than normal.
"The marking was the same for all candidates across England and Wales," he said.
But he said a change in the English language syllabus, which has replaced course work with internal assessment, had affected some pupils' performance.
"Candidates in Wales don't seem to have coped with that as well as they did with course work in the past," he added.
Speaking on Friday, David Reynolds, a professor of education at Southampton University and a senior adviser to the Welsh government, said there was " clearly something going on" with the fall in results.
"The rumours are that the results for those who sat English language early, in January, were very good," he said.
"What happened is that things were toughened up later. We genuinely don't know."
'Evaluating the evidence'
A Welsh government spokesperson said the exam results released on Thursday "raised a number of serious questions about performance in English language GCSEs".
"We will be evaluating all the available evidence about what has happened, and why."
A Department for Education spokesman said it was "down to the Welsh and Northern Irish administrations to decide how to run their education systems - and down to us to do what is best for English students".